An Art Trek Through Kingston's Galleries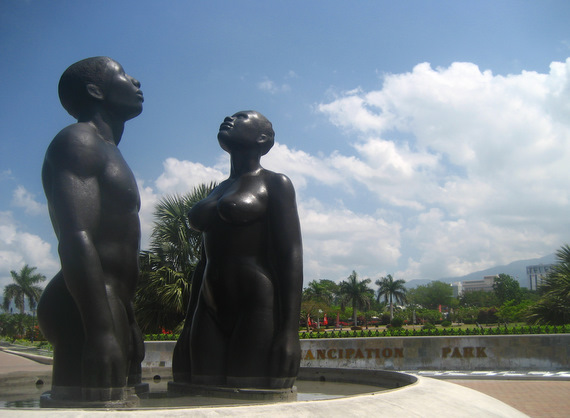 Redemption Song by Laura Facey-Cooper, Emancipation Park
Recently I joined a few friends to go on an organized gallery hopping trip throughout Kingston. This "Art Trek" was organized by Jamaica Cultural Enterprises, a new company formed this year to develop and market cultural tours and related activies in Jamaica.
We started the day at Emancipation Park at 10 am where we received our orientation for the day, learned about the history of the park and about Laura Facey's provocative sculpture (shown above). This statue, for those of you who don't know, sparked much controversy in Jamaica when it was unveiled due to its supposedly sexual nature.

After leaving the park, we headed downtown to the National Gallery of Jamaica.  We spent over an hour at the National Gallery, during which time we viewed some of the greats of Jamaican art, including works by Albert Huie, Edna Manley, Osmond Watson and Karl Parboosingh.  You really need all day to do the National Gallery justice but our relatively short visit was a good introduction to the amazing wealth of Jamaican art on display there.
After the National Gallery we headed back uptown to The Wanderer, a small gallery and art shop run by Colette Garrick at 3 Queensway. At The Wanderer we met and talked with three young up and coming artists, John Campbell, Khalil Deane and Kacey Ferguson, each of whom had their art on display there. Talking with the artists about their work certainly added a new dimension to viewing the art and I think we all relished this opportunity.
After leaving The Wanderer we headed to the Revolution Gallery on Lady Musgrave Road, which at the time had just opened a new exhibition, "Feminine Rising", featuring works by Amy Laskin and others.  At Revolution we also ate lunch (delightful Indian cuisine courtesy of Pushpas). The last stop on the tour was Alexander Cooper's gallery at his home on Cooper's Hill.
The high point of the day was definitely meeting Mr. Cooper, one of Jamaica's master painters, who welcomed us into his combination home, gallery and mini museum to view his work and then to join himself and his wife for afternoon tea. Mr. Cooper and his wife are a delightful couple and it was a rare treat to be able to spend an afternoon with one of Jamaica's great artists, learning about his history and the history of Jamaica conveyed in his work.
Overall, the day was fun filled, educational and truly an immersion into Kingston's art scene. Our tour guide, Karen Hutchinson, was extremely knowledgeable about Kingston's galleries, artists and cultural points of interest. Our small group enjoyed getting to know each other as well as visiting some of Kingston's best art galleries and meeting some of our most talented artists.
A highly recommended adventure!