Bellydancing at Afya Saturdays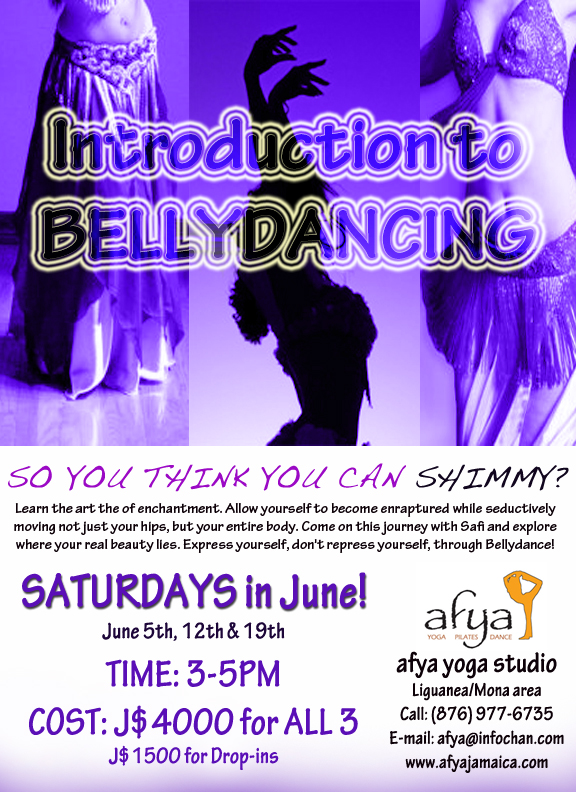 Afya offers Bellydancing this June!
After an introductory workshop taught this May, Bellydance classes continue this June at the Afya Yoga and Pilates Studio at 2 Bamboo Avenue in Liguanea.

Practiced in various forms in places such as Egypt, Morroco, Turkey and the United States, bellydance is fun, entertaining, sexy, and empowering. Each class will be an opportunity to explore your own power, self expression and sensuality while learning the basics of this beautiful dance form.
Classes begin this Saturday June 5th and continue on Saturday the 12th and 19th. All sessions are from 3pm to 5pm. Persons may drop in for a single class and pay $1,500 or purchase all 3 classes for $4,000.
All levels, shapes and sizes are welcome. If you've never danced a day in your life you are welcome.
Drawn to bellydance by a strong community of practitioners in upstate New York, Safi Harriott has been practicing a hybrid form of this art for the last four and half years. Safi believes in using bellydance to create a mutually supportive and non-judgemental space for "non-dancers" and "dancers" of various levels, emphasizing individual exploration and discovery.
In her perspective, the body already contains beautiful curves, circles and spirals and it is only left to become aware and appreciative of this already existing beauty and dynamism.