Sezi Sings Her Heart Out at RedBones Friday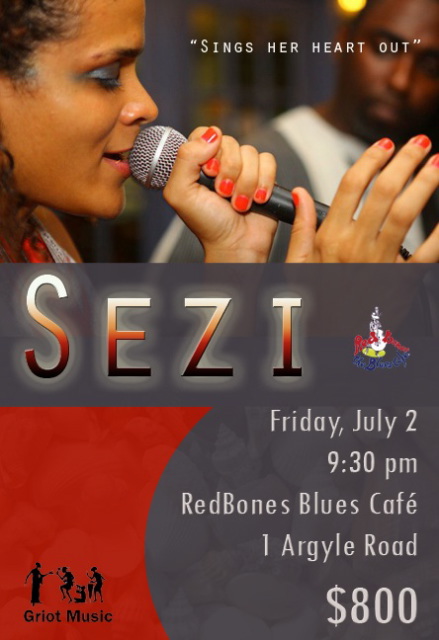 Sarah "Sezi" Silvera was born in Jamaica and grew up in Trinidad, England, and the USA.  Now back in Jamaica teaching at the American International School in Kingston, Sezi describes herself as a dancer, poet, singer, songwriter and educator.
Sezi (pronounced "Says I") has been working with Seretse Small of Griot Music, a company that works to develop young artists and promotes live music in Jamaica.

Sezi has performed at the Blue Beat Jazz and Blues Bar in Montego Bay,  Jo Jo's Jerk Pit, Susie's Bakery, Whitebones Seafood Restaurant in Kingston and John Crows Tavern in Ocho Rios. She has also opened for Crimson Heart Replica's "Love and Lazers" at RedBones.
Sezi's mix of Reggae, Rock and original Caribbean fusion will be on show at RedBones Friday July 2.  The night will showcase Sezi reunited with "Seretse & Friends" which includes Seretse on guitar, Kamla Hamilton on Keyboards, Mfon Udosen on Bass Guitar and Obed Davis on Drums.
For more about Sezi see Sezi entertains at Jo Jo's Jerk Pit