Smokin' Jacket Smokes With Eclectic Mix Of Talent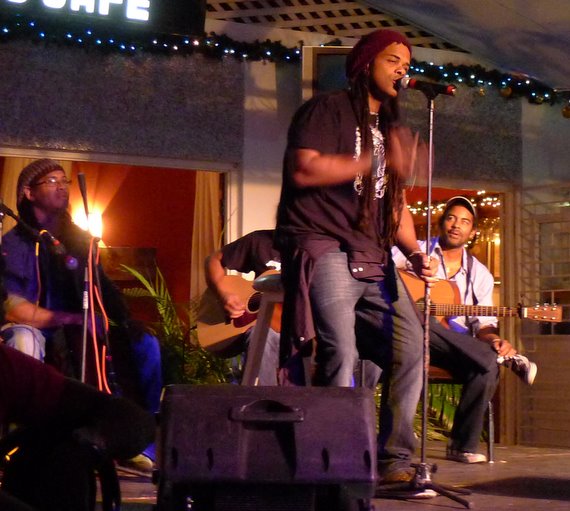 Here are some photos from last night's Smokin' Jacket at Carlos Cafe.
Produced by Brand New Machine promoters Steve "Urchin" Wilson and Terrance "Farenheit" Harold, along with Andrew "Andrew Mac" McIntyre the night was once again an eclectic mix of established artists and musicians combined with an unexpected dose of exciting newcomers.

Patrons were treated to performances by Andru Donalds (not often seen performing in Jamaica), Protoje (who's about to release his debut album and was handing out samplers), Andrew "Andrew Mac" MacIntyre (also not often seen performing here), Farenheit, Marcus I, Sarah "Sezi" Silvera, Sarah Couch (daughter of Suzanne Couch), Kai Wakeling, Tara, Rupert Bent Jr., Mikey Fletcher, Paul Kastick, Wayne McGregor, Jason Worton, and Andrew Simpson.
Paintings by local artist John Campbell where on display throughout the venue, adding an additional interesting dimension to the event.
DJ Engineroom kept the evening interesting before, during and after sets with his unique style of funky house, trip hop and world music sets.
Congrats to Smokin' Jacket for another great evening of entertainment!