Top 10 Most Popular YardEdge Posts of 2011 (Part 1 of 2)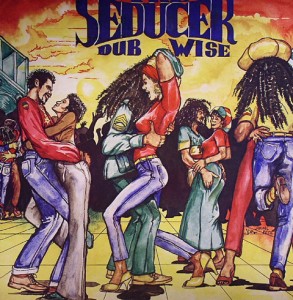 1. The Top Dub Albums of All Time (Part 1 of 2)
After reading this great article here about Jamaican album covers, I thought I would add my bit to the classic reggae discussion.
Although I am not going to dive too deeply into an explanation of dub, let me start with a simple definition. By dub, I mean the uniquely Jamaican style of remixing music in which the vocals are largely stripped out, healthy measures of reverb and delay (echo) are applied to the drums (especially the hi-hats and snares) and rhythm and lead instruments, random sound effects are introduced, and overall the song is made to sound like an outer-space Guiness and high-grade influenced psychedelic interpretation where someone accidentally turned the bass to +10. Read more
2. JAMDEAL – The Ebay of Jamaica 
For some time now I thought JamDeal, the online auction marketplace of Jamaica, was mostly about people selling their cars. I'm not sure why I thought that. I think I was interested in buying a car once and someone said I should look there. Read more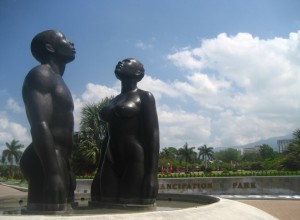 3. An Art Trek Through Kingston's Art Galleries
Recently I joined a few friends to go on an organized gallery hopping trip throughout Kingston. This "Art Trek" was organized by Jamaica Cultural Enterprises, a new company formed this year to develop and market cultural tours and related activities in Jamaica. Read more 
We started the day at Emancipation Park at 10 am where we received our orientation for the day, learned about the history of the park and about Laura Facey's provocative sculpture (shown above). This statue, for those of you who don't know, sparked much controversy in Jamaica when it was unveiled due to its supposedly sexual nature.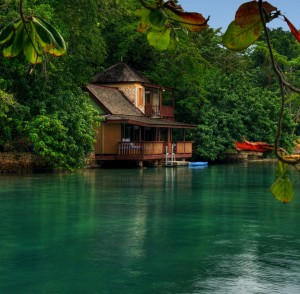 4. The New GoldenEye Hotel and Resort Opens

Originally named by Ian Fleming after a WWII naval operation, GoldenEye is located on Jamaica's north coast town of Oracabessa. Once Ian Fleming's private villa where he wrote all of his world famous James Bond novels (his original desk still stands), GoldenEye has since been acquired and developed by Island Outpost's Chris Blackwell. (Chris Blackwell founded Island Records in 1959 and has been credited with producing  Bob Marley and the Wailers and several other reggae/rock and roll greats including U2) Read more
5. Jamaica – the Next Cayman, the Plan to Attract the Super Rich
Here's an eye opening and thought provoking article on Jamaica's current strategy of attracting "high net worth individuals" to do business here.
"Jamaica wants to become the Caribbean's next big investment magnet. Think about it and you'll realise that's not as unlikely as it might sound, says William Cash. If the likes of Panama, the Cayman Islands, St Kitts and the Turks and Caicos Islands can reinvent themselves as flourishing offshore tax havens, then why not Jamaica? Read more