JamDeal, the eBay of Jamaica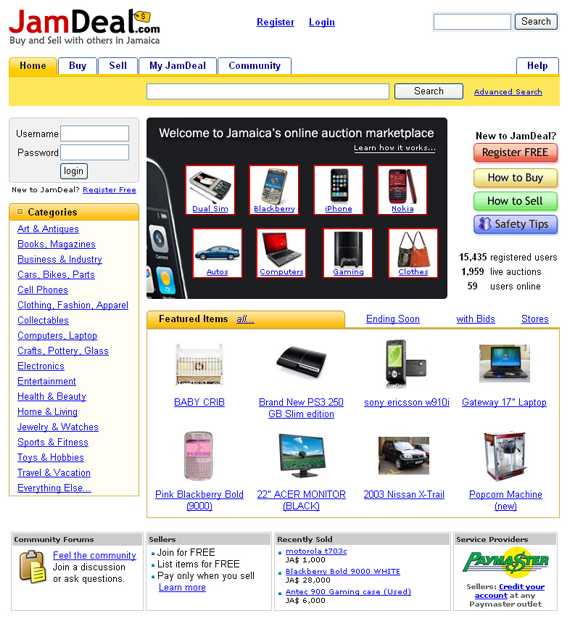 For some time now I thought JamDeal, the online auction marketplace of Jamaica, was mostly about people selling their cars. I'm not sure why I thought that. I think I was interested in buying a car once and someone said I should look there.
Anyway, recently I came across the owner of JamDeal, Chad Cunningham, and he set me straight. Just like eBay, JamDeal allows anyone in Jamaica to buy or sell almost anything with each other. Today it has over 15,000 registered users and almost 2,000 items listed for sale.

So what are the things that JamDeal has on it? Well for one, it seems JamDeal is the hotbed for buying and selling cell phones in Jamaica. A look in the recently sold section of the homepage almost always shows some item related to cell phones, whether that being the actual phone or cell phone accessories and parts.
Ever wondered where you could find a replacement for that blackberry trackball? You can find it there along with tons of other stuff. There is art for sale, fashion and clothing, computers and laptops, and yes…cars for sale.
As an internet business JamDeal seems to be doing something right. While many people are unsure of internet usage in Jamaica and whether or not it is worth their while to pay attention to the local internet landscape, people seem to be really using JamDeal. They buy stuff they want and sell stuff they don't want to make a little extra money.
Sure sounds like the eBay of Jamaica to me.