The Top Dub Albums Of All Time (Part 1 Of 2)
YardEdge welcomes our new guest blogger Christopher Edmonds here with his first post about dub.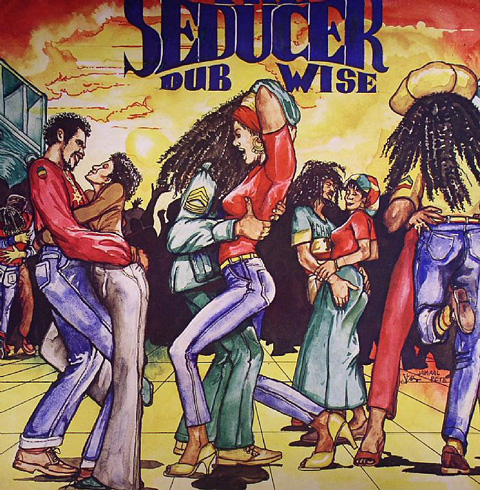 The Seducer Dub Wise – Perhaps this covers suggests the Broadcasting Commission should ban this too?
After reading this great article here about Jamaican album covers, I thought I would add my bit to the classic reggae discussion.
Although I am not going to dive too deeply into an explanation of dub, let me start with a simple definition. By dub, I mean the uniquely Jamaican style of remixing music in which the vocals are largely stripped out, healthy measures of reverb and delay (echo) are applied to the drums (especially the hi-hats and snares) and rhythm and lead instruments, random sound effects are introduced, and overall the song is made to sound like an outer-space Guiness and high-grade influenced psychedelic interpretation where someone accidentally turned the bass to +10.
As an aside, Trinis and Eastern Caribbean folk use the term dub to refer to what we in Jamaica would call dancehall… not sure how that got mixed up.
So, without further ado…
The Seducer Dub Wise (Hit Bound) 1982
What can one say about this record that isn't already communicated by the album artwork? A Channel One production featuring dub engineer extraordinaire Scientist (Hopeton Brown) reworking some extra-heavy Roots Radics tracks. The Seducer is a classic example of no-frills roots dub- emphasis on the drum and bass, a short snappy delay on the snare, and teases of echoed-out snippets of the vocals and rhythm guitar and keyboards.
Standout tracks include "Bedtime Rock", a bass-heavy inversion of Frankie Paul's "Worries In The Dance" (the original Channel One version, not the later ones), "Midnight Special" (Frankie Paul's "Slave Driver" on the "Darker Shade Of Black" riddim), "Rough Rider" (possibly Horace Andy) and "Mr. Special" (Don Angelo is the vocalist, but don't know the original track).
Alas this album has not made it to the (legal) download world yet, but you can still snap it up from Ernie B's Reggae, eBay or in your indie music store of choice. You can, however, buy the standout original version of "Worries In The Dance" from Amazon

or the Apple iTunes Store

.
Aswad A New Chapter Of Dub (Island) 1982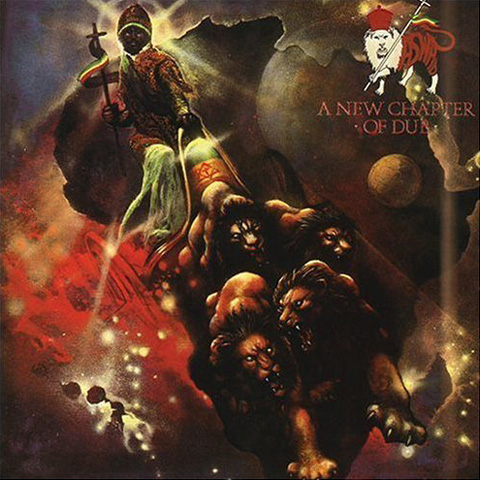 The lion is not sleeping tonight
From the UK comes reggae super-group Aswad's foray into dub- A New Chapter Of Dub is actually dub versions of most of their 1981 CBS album New Chapter (clever eh?). This is not the later poppy Aswad sound that you know well from "On And On", "Fire" and "Don't Turn Around", rather this is their foundation deep-roots style that rumbled sub-sonically from Brixton basement flats in defiance of the National Front and Maggie's Farm (that of The Specials, not of Dylan).
Mixed by Michael "Reuben" Campbell (not to be confused with Michael "Mikey Dread" Campbell), this album explores much lusher musical soundscapes than the typical Jamaican dub album. The lead track, "Dub Fire", is a subwoofer-destroying take on Aswad's "Love Fire", a track which also achieved popularity as the rhythm behind Dennis Brown's anthemic "Promised Land" (if you like "Love Fire" you should also check out the live version on Aswad's Live And Direct album as well as the psuedo-dub version available on the Countryman soundtrack as "Mosman Skank", and as an additional N.B., the "Mosman" referred to in that title is actually the older dread who currently sells hubcaps in Barbican Square in Kingston and also played a character of the same name in Countryman).
"Bammie Blow" takes the horn parts featured on the original track, "Didn't Know At The Time", and showcases them on a steady drum and bass foundation, while "Zion I" takes a similar approach with the flute lead of "Zion" and adds a healthy dose of dubbed-out vocals. Two other Aswad hits, "African Children" and "Natural Progression", are given more traditional dub mixes on "Ghetto In The Sky" and "Natural Progression".
Buy the CDs and DVDs from Amazon

:
» A New Chapter Of Dub

» New Chapter

» Live And Direct

» Countryman
(soundtrack)
» Countryman
(DVD)
Buy the downloads from Amazon

:
» New Chapter

» Live And Direct

» Dennis Brown – "Promised Land"
Buy the downloads from the Apple iTunes Store

:
» A New Chapter Of Dub
» New Chapter
» Live And Direct
» Dennis Brown – "Promised Land"
More in Part 2 of this post…