Afya Yoga Presents an Evening of Wellness, Yoga and Communion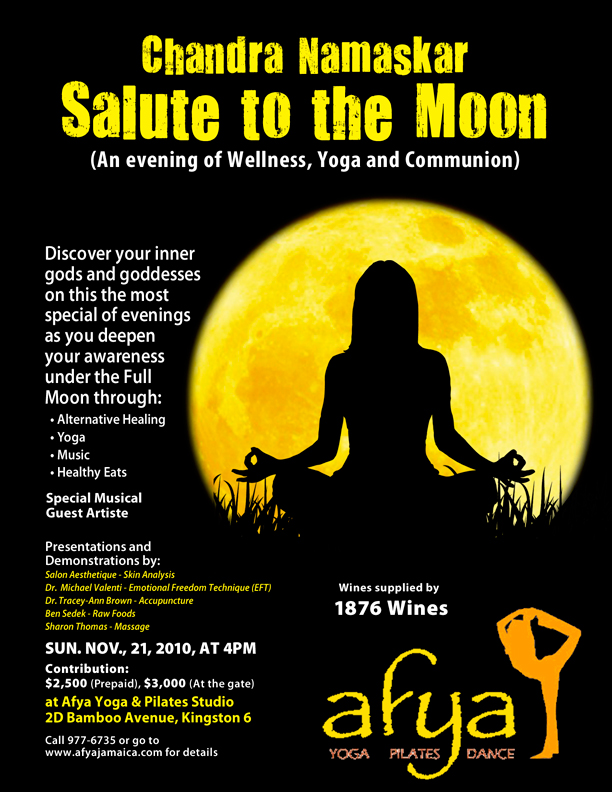 Afya presents and evening of wellness, yoga and communion.
Spend Sunday afternoon at Afya from 4pm until 8pm as they celebrate in wellness, yoga and community under the full moon.
The afternoon will include,
Mini Massages with Sharon Thomas
Acupuncture with Dr. Tracey Ann Brown

Emotional Freedom Technique with Dr. Michael Valenti
Skin Analysis given by Spa Aesthetique
Tasty food by Raw Food Gourmet Chef Ben Sedek
Wines by 1876 Wines
Yoga at 5:45 with Donovan
Jam session featuring Kai Wakeling on guitar with Mickey Bennett and Karrell Wisdon.
PLEASE CARRY A BLANKET or BEACH TOWEL and your YOGA MAT.
ALL INCLUDED!
LIMITED PRE-SOLD TICKETS ARE AVAILABLE AT THE STUDIO UNTIL SATURDAY NOVEMBER 20 at 10:30am. We strongly encourage you to buy your tickets before Sunday.
Afya is located at 2D Bamboo Avenue, Kingston 6,
So come prepared to be fed musically and enchanted not just by the moon but the music.
For more on Afya see Afya – a yoga sanctuary in the heart of Kingston