YardEdge Talks to Jamaican Songstress, Dancer, Storyteller Sarah "Sezi" Silvera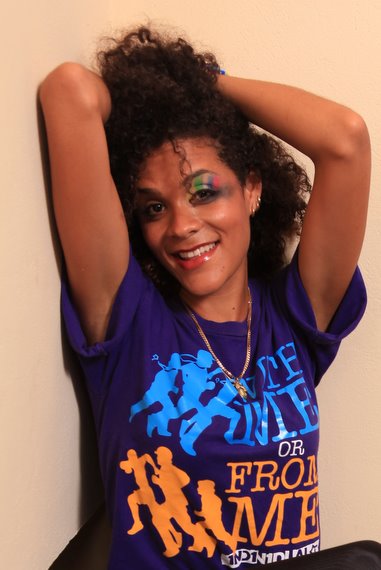 Sarah "Sezi" Silvera has been making waves on the local music scene for sometime now. YardEdge caught up with Sezi to find out what she's been up to…
YardEdge: Why are you a singer/musician and when did you first become one?
Sezi: I grew up with a mother who is a drama teacher so I've been performing in musicals, concerts and plays from a wee lil thing! =) I think I wrote my first song when I was 14…just about the time when those hormones kicked in and the boys were breaking my heart!!! =)

YardEdge: You're fairly new to the music scene in Jamaica, when did you start performing here?
Sezi: I started performing in Negril about three years ago! Cabaret style at hotels! I never forget being told by one of the lead singers, " You good you know. But you must stop dance round the stage so much!" Ha!
YardEdge: What were you up to before you started performing?
Sezi: I was performing everyday in front of First Graders…Trying to make reading and writing the most amazing thing ever !!! =)
YardEdge: How would you describe your work?
Sezi: Performance art maybe? I'm a dancer and storyteller. I feel music and I can't help but move and create melody to the sound of instruments. Maybe a Torch Singer sort of feel? Which is more of a niche than a genre…so in terms of my genre…hmmm? I'm not sure what it is? I'm depending on people who hear my music to fit me into a genre. Any Suggestions Karin? =)
YardEdge:  You seem to write a fair amount about your own life experiences, is that what mainly inspires you to create/write music?
Sezi: I get inspired with melodies through art, movies, listening to music, quiet time with self…melodies come often. The words come from experiences someone has shared, situations I have observed or experienced. I write often, but not everything I write becomes a song. They do evoke thought for new songs though!
YardEdge: What other artists/musicians have influenced you and how?
Sezi: This is impossible for me to answer in terms of specific names. I can say this…anything that feels like authentic expression, is what influences me to continue creating my own authentic expression. I've always liked bands/ artists with a theatrical element.
YardEdge: What other interests do you have outside of creating music?
Sezi: Education. I've wanted to go to a Manifesto Jamaica meeting and I shall before the year is out! I really respect their vision of Empowering the youth through art and culture. And, it is people of my generation spearheading the movement. I'm an educator as much as I am a performer and as certain as I am that music heals.. I'm also certain that giving the youth opportunities to make a positive future for them selves is the only way we make the future better. If we make this a focus: how could we fail as a generation?
YardEdge: What's the best and worst parts of being an artist/musician?
Sezi: Best part: You get to express yourself. That little being inside of you is caressed and lured out of it's hiding spot. Then in return you are given the privilege to encourage people to do the same.
Worst Part: The uncertainty.
YardEdge: How would you describe the local music scene currently?
Sezi: LiVe MuSic is AliVe and WeLL. People are so supportive of live music right now and there's a really great group of musicians and artists coming together to perform on shows. The No- Maddz have described us all as the aquifer…I like that…let the Aquifer Flow! =)
YardEdge: Where do you see yourself in 10 years?
Sezi: Happy. Healthy. Children. Pets. Recording. Writing. Performing. Traveling. Working with children. And Grateful for another ten years to make it all happen. =)
YardEdge: If you could be doing anything you wanted, what would that be?
Sezi: Wow. That question just scared me a bit. I think I'm manifesting as I go along, there's a lot I wanted a few years ago that I'm doing now. I always want to be feeling fulfilled. Like I'm not wasting my time here. I feel that way now.
YardEdge: How have you developed your skill?
Sezi: I performed everywhere and anywhere that they would listen, even if they didn't actually listen! =) I started working with Griot music and guitarist Seretse Small who gave me the platform to perform in Cafés and Bars around the island. I've been working on developing a relationship with my audience. So far I'm falling more and more in love with them and hoping they too are falling for me! =)
YardEdge: What's your earliest memory of making music?
Sezi: Singing, "Wind Beneath my Wings" at my great grandmother's funeral. She died at 105, I was 12. I remember going to rehearse with the piano player and in my grief feeling a bit guilty because I was thinking…this is so much fun!
YardEdge: How did you get started as an artist/musician?
Sezi: I had this vision in my head that I couldn't seem to shake…so I took action.
YardEdge: What music are you listening to now?
Sezi: I've been listening to a lot of Dub step. It's my new crush.
YardEdge: How would people who know you describe you?
Sezi: Spirited! =)
YardEdge: What makes you feel the happiest when you're doing it?
Sezi: Listening to music. Making Music. Dancing to music. Making memories with friends and family.
YardEdge: Quote us your some of your favorite song lyrics?
Sezi: "Yes, there were times, I'm sure you knew..
When I bit off more than I could chew..
But through it all when there was doubt..
I ate it up and spit it out..
I faced it all and I stood tall..
And did it my way" Lyrics by Paul Anka. == I sing this song to myself, often! =)
YardEdge: Any regrets?
Sezi: Alexander Graham Bell said what I feel about regrets a long time ago.. "When one door closes, another opens; but we often look so long and so regretfully upon the closed door that we do not see the one which has opened for us."
YardEdge: Tell us a secret?
Sezi: Sometimes I think Cheetah really comes alive like Pinocchio when no one is around. He cracks open the fridge, gets himself something to drink, watches a movie, pees in the plants! =)
YardEdge: Final thoughts?
Sezi: The life you imagine in your head is really possible. But only if you believe it is. We have the power to make things happen in our lives, no one else…well no one who's flesh and blood like us at least.
YardEdge: Upcoming performances?
Sezi: So Far..Wikie Wackie out in Bull Bay on Sunday December 5th and "Eclectic", Saturday December 18th at Susie's Bakery in Southdale Plaza. For "Eclectic" I'm performing alongside Ellan , Bijean Gayle No-Maddz and Crimson Heart Replica all backed by Jammarockaz. Anything new that comes up I will post on Face Book!
You can contact Sezi via twitter.com/sezitunes or on facebook: sezi live