Stereo Massive Turns On The Groove At Devon House Debut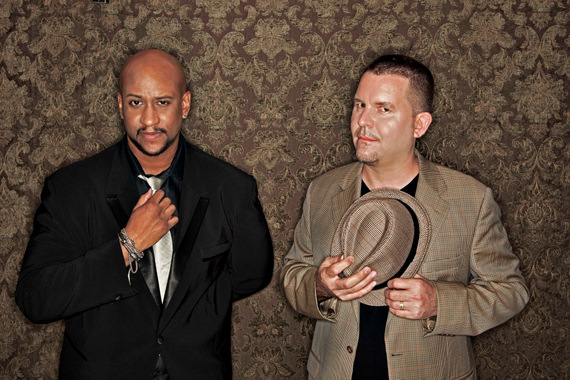 Kingston's hippiest DJ duo STEREO MASSIVE (Engineroom + Mister Harding) had the large Devon House Pub crowd up on their feet rocking to their house grooves last week Thursday. Hands were in the air, the room was dark, and dancing was the order of the evening.


Stereo Massive is a self described "electronic music production and DJ/performance unit" whose mission is to make and dj funky house music designed to make you dance.
Comprised of Jeremy "MisterHarding" Harding and Christopher "Engineroom" Edmonds, STEREO MASSIVE was born in early 2011 and has for the last year been hosting and working with the cream of the electronic music crop, including Bob Sinclar, Diplo & Switch (Major Lazer), 12th Planet, and Benny Benassi protégé Congorock.
They've also just completed a co-production with Congorock called "Bless Di Nation" featuring Sean Paul, which will be released on Ultra Records in summer 2011.
Harding and Edmonds are both long time DJs, musicians and "gear heads". Harding is an accomplished guitarist and Edmonds is a classically trained pianist.
STEREO MASSIVE is not about remixing pop hits but about classic house music with a smattering of dubstep and ragga signifiers- Chicago meets London meets Ibiza meets Kingston.
STEREO MASSIVE's debut EP is slated for late summer 2011 as well.
We welcome STEREO MASSIVE to the scene!
Upcoming dates include:
Wed 25 May 2011 – Style Week 2011 launch – UDC Car Park Downtown, Kingston, Jamaica
Sat 4 June 2011 – So Real Saturdays – Palmyra Beach, Montego Bay, Jamaica
Fri 24 June 2011 – Altered Fridays – Tony's Bar, Kingston, Jamaica
More on STEREO MASSIVE:
www.stereomassive.com – Facebook – Twitter