Chameleon Designs Creates Jewelry From Recycled Local Materials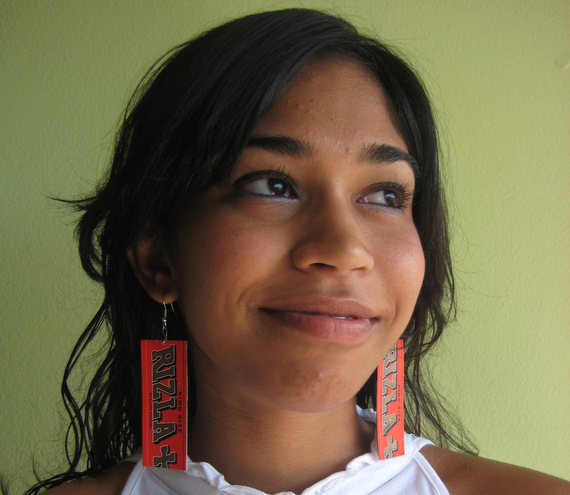 YardEdge is happy to profile a local entrepreneur and jewelry designer, Erica Licht, creator of Chameleon Designs, who uses recycled local materials to design her line of unique jewelry and accessories.
Here's what Erica Licht creator of Chameleon Designs had to say about her work…

"Chameleon Designs began in June 2010. I use recycled materials to create unique pieces that turn trash into eclectic accessories.
Since its inception, I have used a variety of materials – includng apricot pits, watermelon seeds, gum wrappers, soda cans, and anything else that seems appealing and is easily found.
My motivation to start making jewelry derived from my love of earrings and the desire to start creating my own piece to wear, as well as from all of the fruit seeds that surrounded me in the summer of 2010 while I was working in an organic garden.
My current line in Jamaica consist primarily of jewelry and accessories created using bottle stoppers, wine corks, and Rizzla boxes. I get my bottle stoppers from various bars in Kingston and the wine corks from Bin 26.
I am inspired by styles and designs I observe on the street in all of the places I have lived and worked over the last few years, including New York, Boston, Trinidad, Wyoming, Utah, Uganda and Jamaica.
Furthermore, I hope to use the model of my business to inspire the young adults with whom I work to pursue their own entrepreneurial enterprises.
You can purchase products by Chameleon Designs at a variety of locations: Rev Jewelry (Devon House plaza), Bin26 (Devon House plaza), Bob Marley Museum, Jamnesia (Bull Bay), Shanty Man (Gordon Town Road), or by contacting the artist at 428-5209 or chameleondesignsbyerica@gmail.com".
You can also find them on Facebook and chameleondesigns.tumblr.com.
Pricing is J$300 for 1 pair of earrings.