Kingston On The Edge Urban Art Festival Starts June 19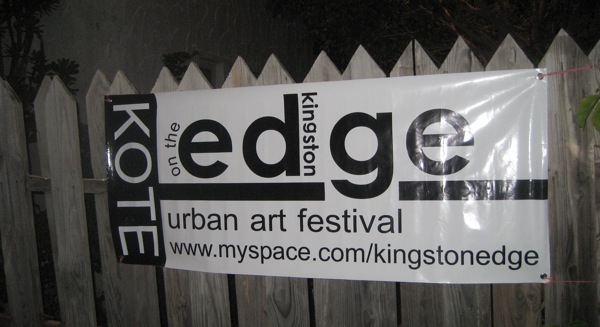 Kingston on the Edge or KOTE for short is a relatively new annual urban art festival being staged in Kingston by a group of forward thinking artists and art lovers.

It's now back for it's third year starting on June 19 to 27. The festival will follow its expressed intention of spreading art and its powerful messages of creativity and community, from the waterfront to the hills of  Kingston.
Venues and spaces will include most of Kingston's leading art galleries, Edna Manley College, the Philip Sherlock Centre at the University of the West Indies, local restaurants, bars, nightclubs and beaches as well as artists' studios and homes.
For more on KOTE 2008:
Kingston on the Edge presents "Word, Love, Power" at Bookophilia
Kingston on the Edge Art Festival opens at Red Bones
Information about Kingston on the Edge can be found via
Email: kingstonedge@gmail.com
Web: http://www.myspace.com/kingstonedge
Phone: 412-4978 / 909-9594