Brand New Machine Presents Paparazzi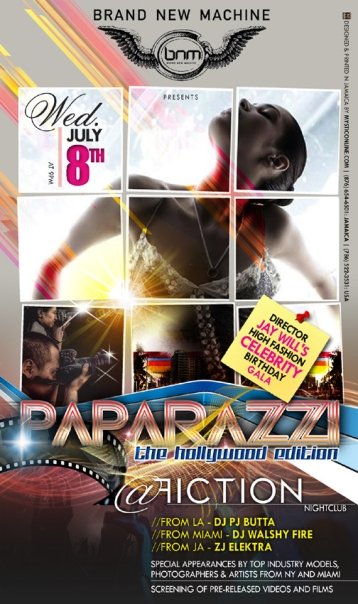 Brand New Machine presents "PAPARAZZI", The Hollywood Edition.
It's Director Jay Will's  hi-fashion celebrity birthday gala. 
Wednesday July 8, 2009 at 9pm
FICTION Night Club
Music By:
From LA: DJ Pj Butta (Heineken World Chart Show)
From Miami: DJ Walshy Killa (Black Chiney)
From JA: ZJ Elektra (ZIP FM)
From JA: Delano (Renaissance) Just Added.
Special Appearances by top industry models, photographers and artists from LA, NY, Miami and Jamaica. 
Plus live screening of pre-released music videos and films from Jay Will and a variety of Caribbean directors.