Jamaica Dance Umbrella On Now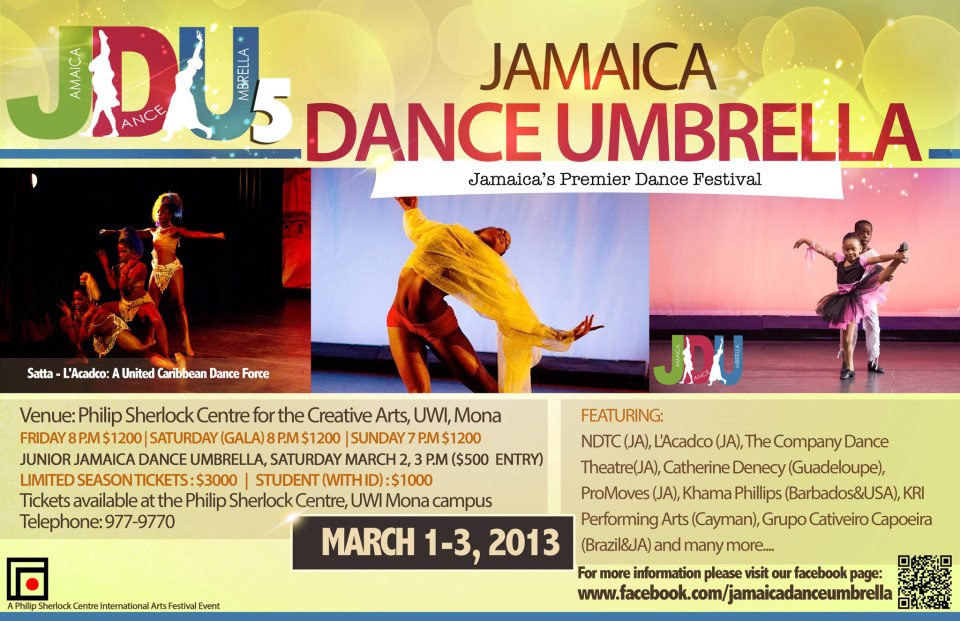 This year, the J.D.U celebrates its 5th anniversary.
Their programme of events have been running from Monday, Feb. 25th and will continue until  Sunday March 03, 2013,
In keeping with the themes of the 'Fives,' The Jamaica Dance Umbrella's "5 years of Jamaica's first ever dance festival" will feature four (4) explorative dance workshops; three (3) days of the island's best dance performances; two (2) stimulating dance dialogues and one (1) pioneer, a Jamaican dance stalwart, Ms. Barbara Requa.
The Jamaica Junior Dance Umbrella highlights independent dance in schools and studios.Top local talent will join specially invited overseas performers, the K.R.I Performing Arts Company from the Cayman Islands.
The Junior JDU celebrates its continued successful growth with an additional showcase of some of Jamaica's top junior companies, studios and high school dance troupes on Saturday, March 2nd, at 3pm.
High schools such as Campion College, Meadowbrook High School and Ascot High School will share the stage with Edna Manley College's School of Dance Junior Department, Wolmer's Dance Troupe, The Dance Centre, Desiree's Dance Studio, Vicker's Dance and Ballet Studio, Esor Dance Ensemble and In Motion Dance Centre as the Saturday afternoon act for this year's 3 day event line up.
See here for schedule: JDU Festival