Institute of Jamaica Now Opening on Saturdays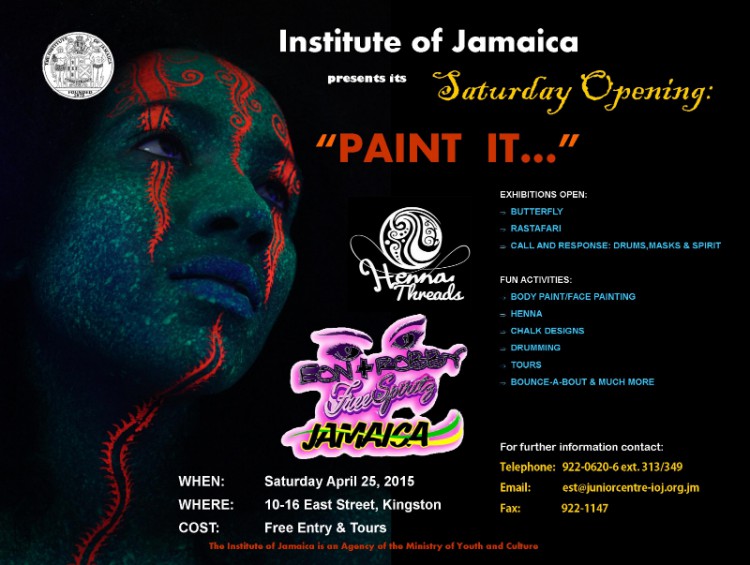 The Institute of Jamaica (IOJ) will be opening on Saturdays!
The IOJ's East Street Complex in Downtown Kingston will be opening on Saturdays as of April 25 when visitors can tour the various exhibitions free.
Conceptualized to expand and expose the services offered by the IOJ, Saturday Openings will offer a range of  activities for the family, especially children as well as tours of the museums' exhibitions.
On April 25, Saturday Openings re-launches with an event entitled 'Paint It' taking place at the East Street Junior Centre from 9:00am to 3:00pm.
'Paint It' caters to the whole family and persons can participate in body painting, face painting and Henna designs. Body designers, Eon and Robby and Henna Threads will be offering these services, including body artistry to the IOJ.
Visitors will also have a chance to tour the most recent exhibition, Call &Response: Drums, Masques and Spirits, a companion to this year's Grounation Series, which was hosted by the Jamaica Music Museum.
Chalk designing will be featured at the event as well as drumming performances by the children of the Junior Centre.
Visitors are also invited to buy cultural items from the IOJ Gift Shop.
For more in the IOJ: http://instituteofjamaica.org.jm/