SO((U))L Fundraising Movie Tonight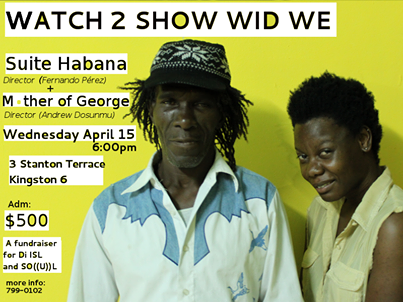 SO((U))L continues to work towards various fundraising initiatives to support activities and work at the HQ and DI Institute for Social Leadership.
Tonight they are partnering with David Morrison to present 2 films at 3 Stanton Terrace to raise funds for their project starting at 6pm. Admission cost is $500.
For more about Di Institute for Social Leadership: http://issuu.com/afifaaza/docs/isl_documentfinalversion
For info about the HQ, an alternative community space: http://issuu.com/afifaaza/docs/publicationsoul
About the films
Mother of Gerorge
Ayodele (Isaach De Bankolé) and Adenike (Danai Gurira) marry and start a new life. As months pass without a pregnancy, Adenike feels torn between her Yoruba culture and her new life in America, struggling to save her marriage.
Suite Habana
In this slice-of-life documentary, director Fernando Pérez chronicles the simple lives of various people living in Havana, Cuba, with minimal action and dialogue. Some of the subjects followed include: an old woman who makes her living selling peanuts on the street; a man who takes care of an elderly woman during the day and plays the saxophone at night; a doctor who aspires to be an actor; and a construction worker whose true passion is dancing ballet.