Exhibition Honouring West Indians in Wartime Opens Nov 14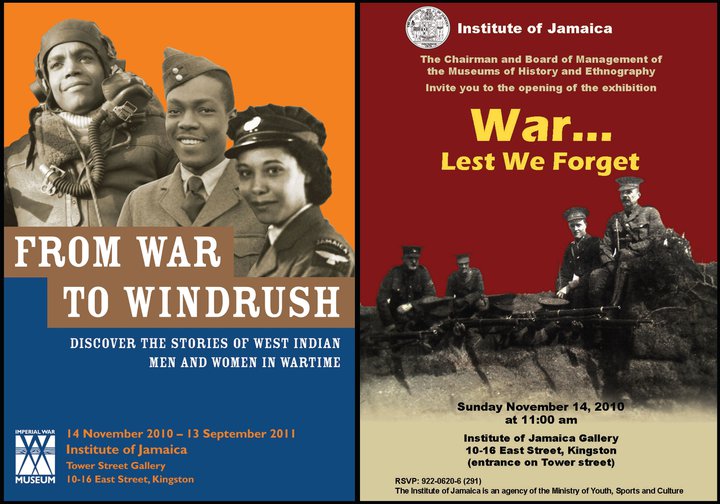 The Museums of History and Ethnography of the Institute of Jamaica will open an exhibition on Jamaica during the two world wars, on November 14, at 11 am at the Institute of Jamaica's Exhibition Gallery, corner of East and Tower Streets.
The exhibition is in 2 parts – part 1 comes from London's Imperial War Museum and represents the travelling version of its successful "From War to Windrush" exhibition and part 2 is locally developed and entitled, "War…Lest we Forget."
"From War to Windrush" was first mounted by London's Imperial War Museum in 2008. It chronicles the participation of West Indians and Blacks who fought for Britain in World War 2 and highlights how these brave men and women helped to rebuild post-war Britain and impact on multiculturalism and cultural diversity in the UK.
"War… Lest We Forget" is dedicated to the memory of Jamaica's unsung heroes, those who gave their lives in World War I and 11 and contributed to the growth of modern Jamaica. Together both exhibitions present an opportunity to consider the words, images and memorabilia of war veterans – a new experience for many Jamaicans.
The exhibitions are open to the public and school groups, Monday – Friday from 10 am to 4 pm. Please call the Institute of Jamaica at 922-0620-6 Ext 279 to schedule tours.
Special arrangements can be made for Saturday group tours. See www.instituteofjamaica.org.jm for more information on the IOJ.
The exhibition will run from Nov. 14th through to Sept 2011.