Restaurant Week Begins November 13 Offering Great Deals for Foodies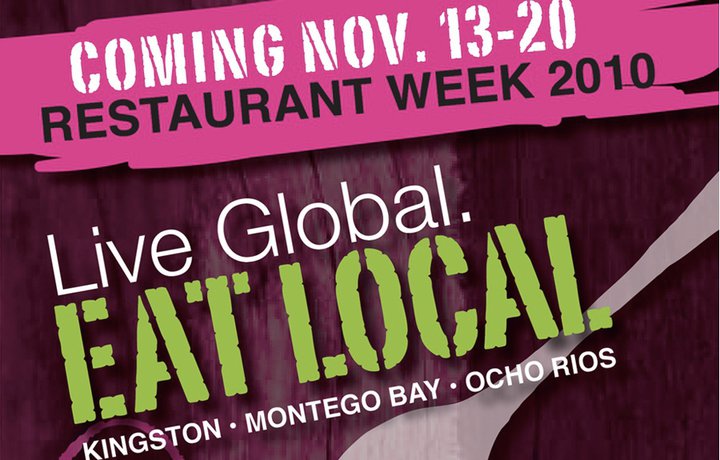 Now in its sixth year Restaurant Week 2010 starts this Friday, November 13 and continues until November 20 with a theme this year of  "Think Global, Eat Local" and offering some great deals for foodies.
Restaurant Week is the brainchild of Stephanie Scott who explains this year's theme, "it addresses the fact that right here in our little island we can travel the world on the tastes on our tongues- to far away places like France, Italy, China, Japan, the Mediterranean and even Greece".

This year there will be 15 new restaurants participating with a total of 60 eateries in three the cities of Kingston, Ocho Rios and Montego Bay.
Participating restaurants will offer a choice of pre-selected three-course dinner menus which include an appetizer, a main course and a dessert in one of five categories: "Tasty" – $1,450, "Savory" – $1,750, "High Rollers" – $1,750, "Delectable" – $3,300, and "Epicurean" –  $3,800. Prices are per person not including beverages, GCT or gratuity.
There will also be a special promotion,  "Nightcaps & Roadsters" whereby patrons of Restaurant Week will be given a cocktail 'on the house'at participating Kingston nightclubs.
New this year is the addition of a wine sponsor, Hardys.  2010 diners will be able to purchase glasses of Hardys Stamp Chardonnay and Merlot for $300 a glass and $ 1250 a bottle.
Stephanie also revealed that another new feature this year will be  "our alliance with the Ministry of Education. November is Parents Month and at 15 selected restaurants children who are dining out will receive special place mats and crayons with reading tips, good parenting practices and numeracy puzzles".
The restaurants who will be participating in the Ministry of Education alliance include
Ashlis
Miss T's Kitchen- Ocho Rios
Morgan"s Harbour Hotel and Marina
Mykonos- Ocho Rios
Prendy's on the Beach
Rib Kage
Rum Jungle- Coral Cliff- Montego Bay
Seashore Grill- Montego Bay Yacht Club
Spring Garden Café- Ocho Rios
Starapples
Twisted Kilt- Montego Bay
Raffaele's Gourmet Pizzeria
Sonia's Home Cooking and Natural Juices
For more information and a full list of participating restaurants visit go-jamaica.com/rw or their facebook page.