A Visit to Charles Town Maroon Community, Portland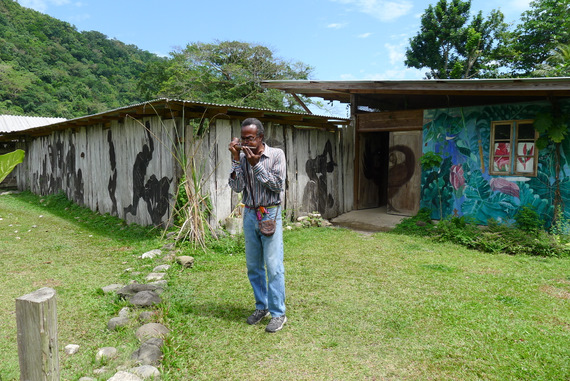 Here are some photos taken from my last visit to the Charles Town Maroon community in the Buff Bay Valley in Portland.
Charles Town is a Maroon Community located approximately 20 minutes drive south of Buff Bay. The town is known for its Maroon history and culture, its Safu Yard, the Charles Town Drummers and Dancers, the Maroon Museum, as well as its tour of the area educating visitors on the history of Maroon culture.

An off the beaten path tourist attraction, a visit to Charles Town is well worth it, though the site could use some product upgrading. (Jamaica Cultural Enterprises organizes tours to Charles Town).
The Maroons were runaway slaves who lived off the land while fighting the British for their freedom.
Pictured above is the current leader of the Charles Town Maroon, Colonel Frank Lumsden blowing an Abeng (cow horn). Maroons used the abeng to communicate with each other during wars with the British during slavery between the 17th to 19th centuries.
The word abeng comes from the Twi language of the Akon in Ghana, and means 'animal horn' or musical instrument. It is now used during traditional Maroon celebrations and gatherings.
For more information see Charles Town Maroons