What's Happening in Jamaica in December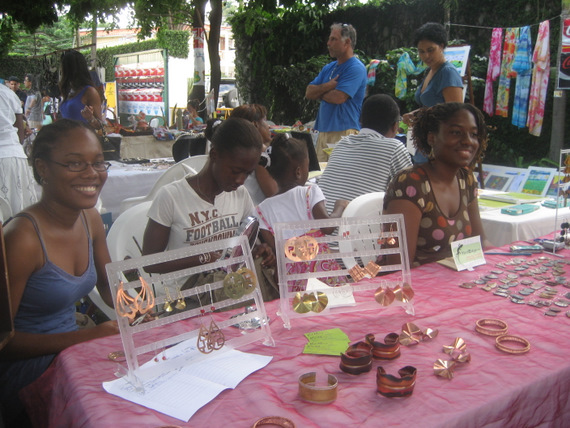 Here's a list of upcoming events that are for sure worth checking out!
ON IN DECEMBER
December 4th
REGGAE MARATHON – Negril
December 4
KINGSTON CITY EXPLORER – Tour of Kingston
For more info
CHRISTMAS FAIR – Gardens of Hotel Mockingbird Inn, Portland
For more info
December 4th & 5th

GROSVENOR GALLERIES CRAFT FAIR – 1 Grosvenor Terrance, Kingston
ART SALE -Rollins Meadows, 5 Richins Ave, Kingston
December 5th
BRICOLAGE, THE CHOREOGRAPHIC WORKS OF KYISHA PATTERSON
For more info
December 10th
ALTERED FRIDAYS – Tony's Bar, Kingston
For more info
ROOTZ UNDERGROUND – Redbones, Kingston
GLOBAL BATTLE OF THE BANDS JAMAICA 2010 – Redbones Blues Cafe, Kingston
For more info
December 12th
11 am – National Gallery of Jamaica Biennial
7 pm – UWI Carol Service at the University Chapel
December 12 & 19th (Also November 28)
MARKET AT THE LAWN – Devon House, Kingston
December 13th – 19th
HALF WAY TREE LIVE – a week of culture and entertainment in Half Way Tree, Kingston
For more info
December 15th
"DIVINE ENCOUNTERS" – 7pm, Bolivar Gallery, Kingston
An exhibition of paintings by Kayla-Shaw-Hines
For more info
December 17th – 19th
KUMBA MI YABBA CHRISTMAS SHOPPING VILLAGE –  Ranny Williams Centre, Kingston
December 18th
ARTOPIA – 7pm, Grosvenor Galleries
Music by Crimson Heart Replica and Jason Worton, Art by Stefan Clarke, Joanna Francis, Zena Nicholson and Marlon James
Films by Salvador Dali and Andy Warhol, Face painting by ShellyAnn Chung and Piercings by A-Wire
For more info
ECLECTIC – A live music party with poetry, film art, wine…
For more info
December 18th & 19th
POTTERS FAIR – Forestry Dept., 173 Constant Spring Road, Kingston
See YardEdge for more info
December 19
CHRISTMAS CAROL SERVICE – Holy Trinity Cathedral, Kingston
For more info
NAKAZZI HUTCHINSON SCULPTURE EXHIBITION OPENING
For more info
December 20
SMOKIN' JACKET – Carlos Cafe, Kingston
Smokin' Jacket – Kingston's plushest lounge party, with a twist… This time it's LIVE with music by Andrew Mac, Farenheit, Cezar, Keida and friends. Eclectic selections by DJ Engineroom.
For more info
December 24
ALTERED FRIDAYS ALTER EGO BALL –  The Wyndham Hotel, Kingston
For more info
December 26
THE TROD LIVE: HOLIDAY SPECIAL – Bob Marley Museum, Kingston
Featuring No-Maddz, Rootz Underground, Raging Fiyah
For more info
For more info
NEW YEAR'S EVE OPTIONS:
Island Outpost has lots of NYE options for you depending on where you are.  See Bring in the new year with Island Outpost!
PLUS, BRAND NEW MACHINE EVERY WEDNESDAY AT FICTION, KINGSTON & BLUE BEAT MONTEGO BAY.
CHECK BACK FOR UPDATES!  And feel free to add your event in the comments section! Thanks!