Astro The Morning Star Exhibition by Astro Saulter Opens November 17
A highly talented 33-year old who has spent his life in a wheelchair because of his physical condition, acquired at birth, known as cerebral palsy, Astro is an artist.
While his physical condition has severely limited his body movements, Astro uses a special device that allows him to make beautiful graphic art using only the back of his head on his wheelchair headrest, thus activating his computer programs.
The exhibition and video will launch on Saturday, November 17, 2012, in Kingston, Jamaica at Studio 174, 174 Harbour Street,  an innovative and unique space founded by artist, art therapist and educator Rozi Chung to serve the educational and cultural needs of children and young adults in inner-city Kingston.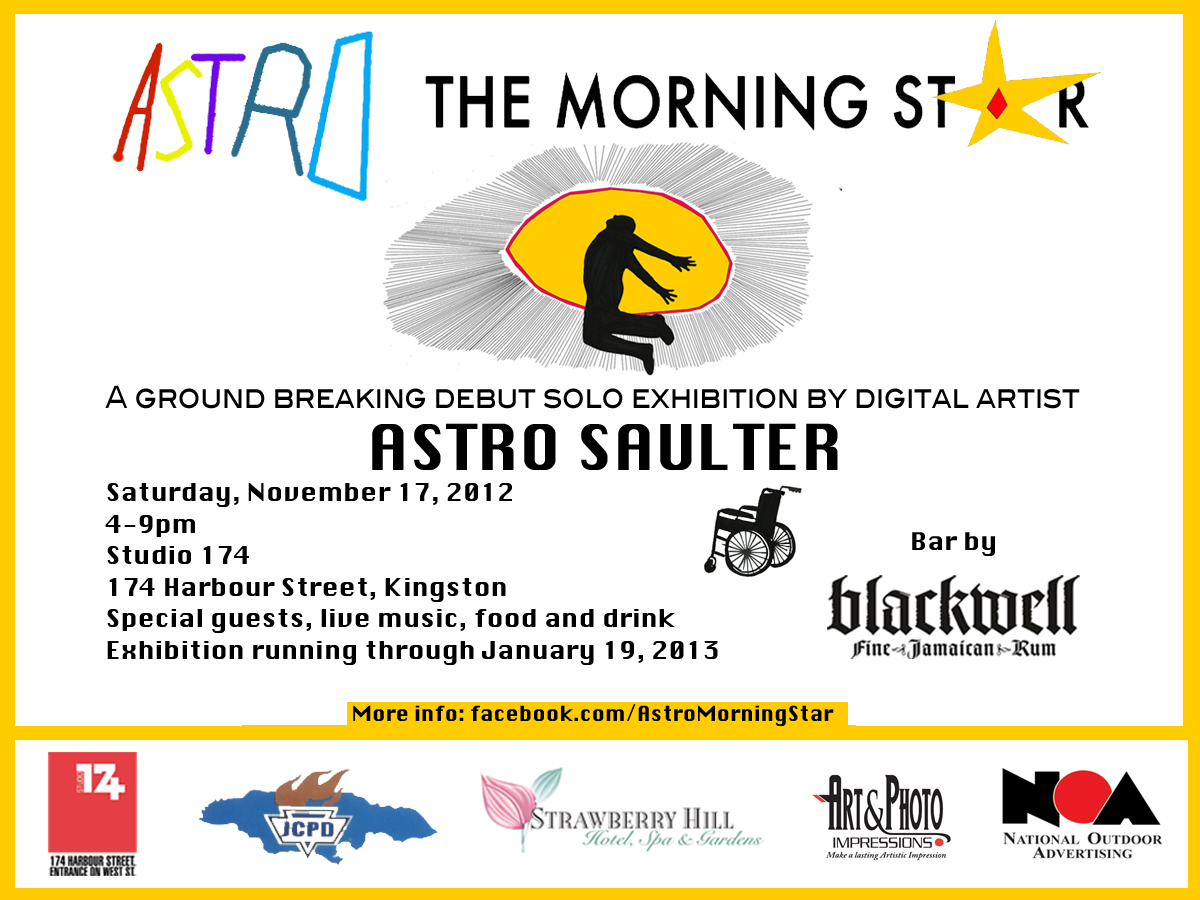 The Astro Project is an exhibition of the work of graphic artist Astro Saulter, and a launch of a video about Astro, both entitled 'Astro, the Morning Star'.
The Astro Project seeks to raise awareness of the creative needs of physically and developmentally challenged persons by bringing attention to:
• the need to develop the capacity for creative expression in disabled persons, thereby increasing a sense of personal identity and pride;
• the need for more opportunities for creative expression and validation of such expression, thus enhancing self-esteem and providing earnings for their personal use;
• the benefits of inclusive access to the arts for audiences of all abilities, resulting in increasing the public's appreciation and enjoyment of the artistic ability of people with disabilities.
While a primary motivating impulse for the video and exhibition is a desire to bring Astro's graphic artwork to the attention of a broad audience in a gallery setting, larger goals were also envisioned to impact positively the reality of the difficulties faced by physically disabled people, and those with other developmental challenges to leading a full life in Jamaica.
The video was created by multi-awarded filmmakers Storm and Nile Saulter, of New Caribbean Cinema film group, based in Kingston, Jamaica.
In addition to this event, there will be a special screening of Astro, the Morning Star at the Disability Friendly Awards Gala of the Jamaica Council for Persons with Disabilities (JCPD) on Monday, November 19 at 7 p.m. at the Wyndham Kingston Hotel.
The Jamaica Council for Persons with Disabilities (JCPD) is charged with the responsibility of implementing national strategies aimed at addressing full participation and the equalization of opportunities for persons with disabilities as well as public education awareness programmes and the provision of vocational and rehabilitation services.
For the Jamaican National Policy on Disability Issues, please see: http://www.abilitiesfoundation.org.jm/p/DisabilityIssuesNationalPolicy.htm
For more information on the Gala, please contact the Gala Secretariat at: jcpdevents@mlss.gov.jm, or telephone 876 922 8469