"I didn't choose dub poetry, dub poetry chose me" More with Charlie Bobus t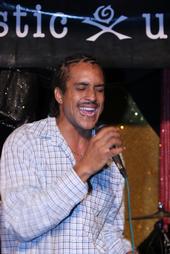 Charlie Bobus, Inspirator International
Part 2
YardEdge: How have you developed your skill?
Charlie Bobus: I have developed my skill through my long experience in the performing arts, having started writing and performing on stage from an early age. I have developed my skill through years of self education, online courses, reading and preparation. Learning from the elders in the dub poetry movement and having a strong consultation network.
Having been in the dub poetry scene for years I have learned a lot about the industry and I have been facing the poetic struggle. I have developed my skill by gathering information on the computer, using technology to learn and studying management and the business aspect of the music, publishing, events promotion and the international poetry industry—hours and hours of practice and preparation. By focusing and dedicating most of my energy and attention to dub poetry, practicing the writing of goals and plans, letters and believing I can achieve anything I put my mind to.
YardEdge: How would people who know you describe you?
Charlie Bobus: I am being called by the poets and poetry events promoters in business as the hardest working dub poet. I am described as a high energy motivational dub poet who is always out there supporting the poetry scene and poets' careers. A very inspiring and powerful poet who is dedicated to the poetry cause. A person doing a lot of representation for the poetry cause. As one of the only dub poets operating as a dub poet entrepreneur, doing poetry from a company level that shows poets that poetry can be commercially viable through innovation and can go on any stage anywhere in the world.
As the leading future generation dub poet who is bringing dub poetry to the masses through events, a new poetry sound system, and the media and through touring the world. Cherry Natural one said that I didn't choose dub poetry, dub poetry chose me.
YardEdge: What exactly is "Inspirator International"?
Charlie Bobus: Inspirator International is a company formed by Nicardo Charlie Bobus Murray, August 13th 2005. It is now a home based business and was formed after Charlie Bobus saw a need for the people to get motivational products and entertainment and he had certain plans that he saw no other organization or company inside the dub poetry industry providing the way to achieve.
Inspirator International is the management for the career of Charlie Bobus and handles bookings and appearances and all matters relating to the dub poetry performances and workshops. Inspirator International is a licensed book publishing company and has produced "Creative Energy" book of motivation and poetry. I have edited a number of books and poems for other authors and will soon be publishing the works of poets from Jamaica and Trinidad.
Inspirator International has produced the "Creative Energy" video that has premiered on Hype TV and the "Creative Energy" CD and is a therefore also a dub poetry record label.
Inspirator International is a events promotion company specializing in dub poetry events and keeps an annual show that is going three year this year June 28th and is held in the volatile community of Grants Pen. We are also organizing the first Dub Poetry Festival for August 2009 and Jamaica's first Poetry Lounge to be opened early 2009 which will also be the official office and store for Inspirator International.
We also have launched Inspirator Dub Poetry Sound System. Inspirator International keeps treats in Grants Pen for youths, volunteers with youth programs and schools to teach dub poetry for national festival programs. Inspirator International offers workshops and motivational speaking sessions.