No-Maddz Sizzle With Originality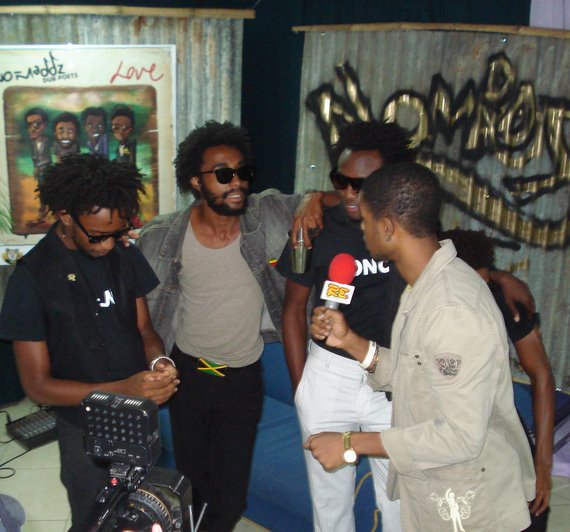 No-Maddz sizzled with originality at their "Anniversary" show this past Sunday at the Courtleigh Auditorium in New Kingston.
Performing to an almost capacity crowd, the quartet and supporting band thoroughly entertained their fans for three hours with a mixture of their popular songs and new material, obviously fully enjoying the entire experience as much as the audience was. The show was being recorded and filmed for an upcoming live album, and also served as a benefit for Eve For Life, a charitable organization that supports women and children with HIV.
Although they took the stage an hour later than scheduled, most didn't mind as there was a very well done bar and VIP lounge and the group was there giving interviews to the media. When showtime did arrive, they opened with a brilliant acoustic version of "So Dem Say" and followed quickly with what is probably their most well known song, "Poo Puku Poo". An hour and a half in, we were wondering where they were continuing to draw such energy and inspiration from, and as the set reached a climax, we were surprised (pleasantly) with an intermission rather than a "good night".

The second set continued the brilliance of the opener- starting off in a slower more soulful tone, with laments and love songs, but again building to a brilliant close with the very powerful "Tell No One You Have Seen Me".
No-Maddz's music is difficult to define- a mixture of dub poetry, reggae, jazz and rock, but a most delightful fusion. As you would expect of dub poets, the songs' lyrics were original, satirical, thought provoking and often had the audience in stitches. In addition to their lyrical strengths, they also put on a truly outstanding live show. They have a natural chemistry, which when combined with their obvious talent, makes their performance seem effortless.
They are truly a pleasure to watch, and although we were only familiar with a small amount of their material, they're so engaging that it doesn't matter. The only criticism from our point of view would be to offer a little more context to the audience- a few words here and there about the music and the group, so that the uninitiated could be drawn in a little closer… plus lose the shades at some point during the show.
The show was well produced save for a few minor technical glitches and some rather bizarre lighting (the house lights were constantly coming on and off between songs, not sure if this was because it was being recorded live). The very cool zinc backdrops that you see in the above picture would have also added a lot of character to the stage, which was not really decorated in any particular fashion.
Big up to No-Maddz for a professional and overall outstanding show. They are truly a breath of fresh air on the Jamaican music scene.
See the Gleaner for Mel Cooke's review of the show.
See No-Maddz in their new Puma advertising campaign here and here.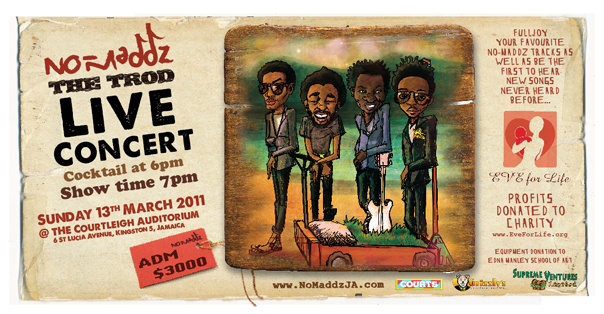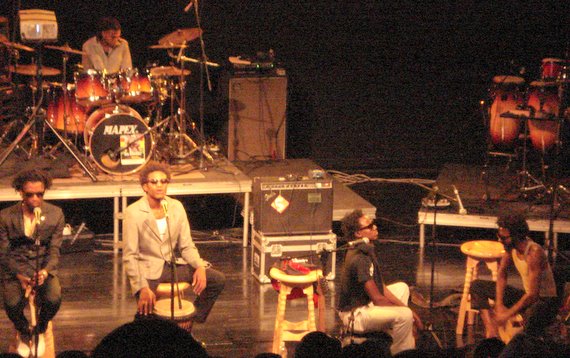 No-Maddz with Dominique Brown of Random Chaos and Karin Wilson Edmonds from YardEdge