Green Your Biz: Creating ECO-nomic Solutions Conference and Trade Show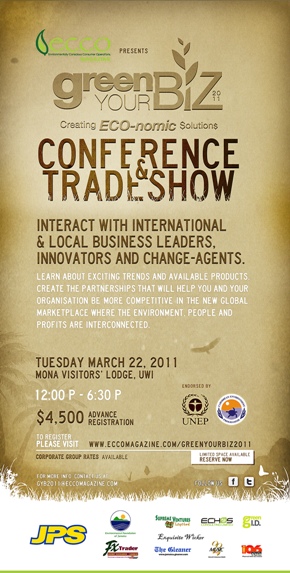 On March 22, 2011, E.C.C.O Magazine, Jamaica's leading eco-friendly lifestyle publication, will host "Green Your Biz 2011: Creating ECO-nomic Solutions" at the University of the West Indies' Mona Visitors' Lodge.
The inaugural conference will feature organisations that are leading the way in corporate and social responsibility while adopting ways to make them more competitive in the new global marketplace where the environment, people, and profits are interconnected.

Over 200 people are expected to attend the Conference and Trade Show and will interact with international and local business leaders, innovators, and change-agents committed to profitable sustainability and successful green strategies.
Topics to be covered include,
– Managing Environmental Risk
– Environmental Management
– Creating Policies: Engaging Staff in Going Green
– Taking the First Steps: Forming a Green Team
– Improving Energy Efficiency: Going Green and your Bottom-Line
– Implementing Proper Waste Management in Business
– Growing a 'green' economy: Alternative Energy, Recycling and other industries
Speakers will include,
– Richard May: Echos Consulting
– Hugh Cresser: Consultant
– Barbara Walker: Mockingbird Hill Hotel
– Safi James: green I.D.
– Aubyn Hill: SCJ Holdings Limited
For more info see eccomagazine.com