KOTE 2009 Pimento Players At Shaare Shalom Synagogue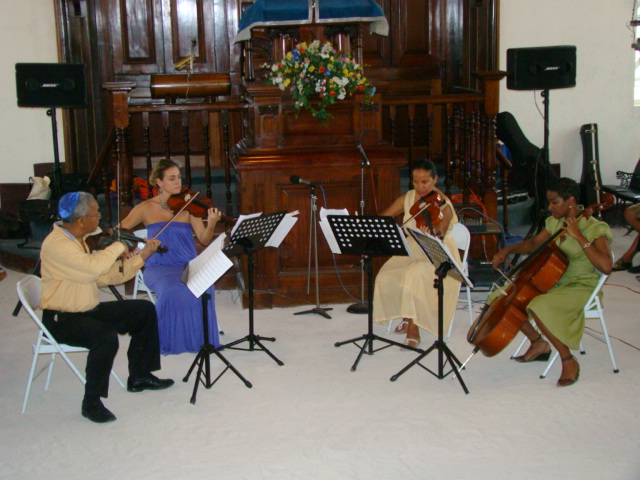 The "Pimento Players", a revived string quartet, led by Peter Ashbourne, performed at "Music is Sacred", a concert in the KOTE series this past Sunday June 21 at the Shaare Shalom Synagogue on Duke Street.

The Pimento Players were established by Peter Ashbourne in 2008, creating Jamaica's first string quartet in recent times.
The concert also featured Rosina Moder and Norman McCallum, on recorder and classical guitar, and the Max Klezmer Band, a band from Poland with a traditional Jewish music background who presented klezmer jazz fusion, linking traditional themes, improvisation and their own compositions.
The Shaare Shalom Synagogue in Kingston is the only remaining synagogue in Jamaica.  The synagogue also houses the Jewish Institute, where some historical artifacts can still be seen including a 300-year-old Torah.
The original synagogue was built in 1885, but was partially destroyed in the 1907 earthquake. The rebuilding was competed in 1912.