YardEdge Talks to Storm Saulter About Better Mus' Come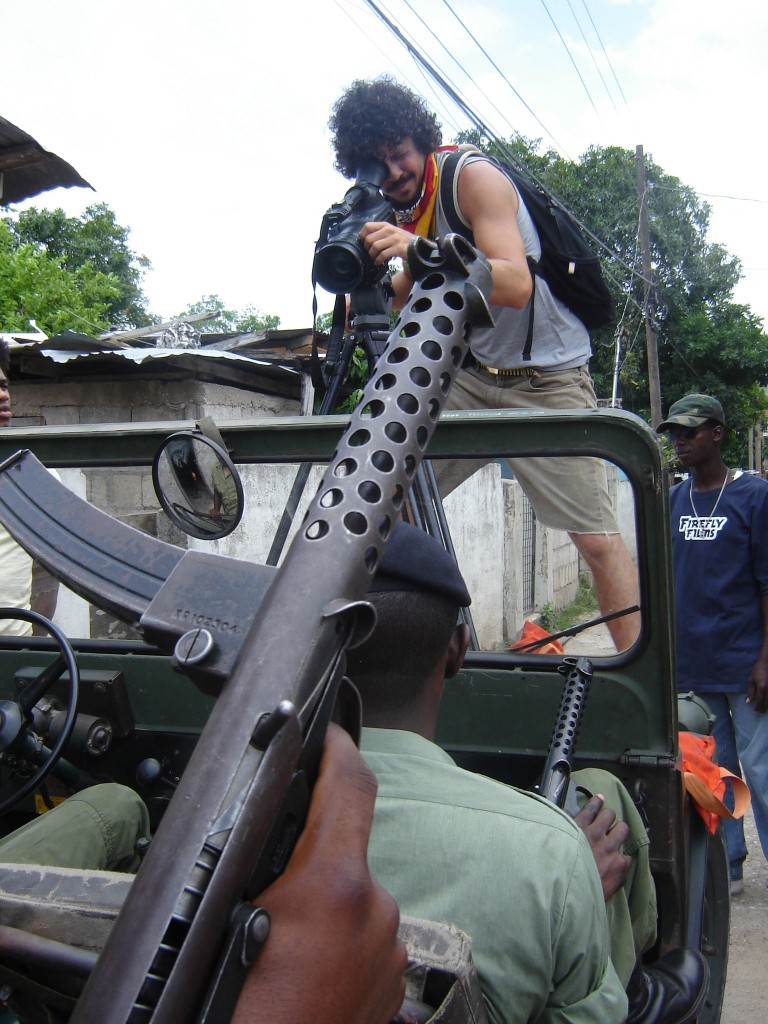 Director Storm Saulter on set
YardEdge had a chat with Jamaican director, Storm Saulter about his new movie Better Mus' Come, which is to be released October 13th in cinemas island wide. See the trailer in the YardEdge Featured Video.
YardEdge: Tell us a bit about Better Mus' Come – what is it about? What was its inspiration?
Storm: Better Mus' Come is about many things, I guess the key element though, was to recreate a time in Jamaica (1977-1978) when political tribalism, encouraged by the main players in the "Cold War" (USA, Cuba, Russia), was at its height. There is a misconception that Jamaicans are intrinsically violent, and I wanted to create a story that more accurately illustrated the root cause and effect of the extreme violence taking place in our country. And to examine the type of societal structure that allows criminality to fester to such a point that the inevitable endgame of a Green Bay massacre, or the invasion of Tivoli, plays out.

YardEdge: What was it like filming it in Jamaica?
Storm: Jamaica is somewhat lawless, like the wild west of filmmaking. That is definitely true when it comes to local film production. This can be very liberating as a filmmaker, but also kinda tricky at times. For example, don't bother getting permits to film at a specific location, cause at the end of the day, the "Big Man" has to give the go ahead. That said, when you reach an understanding with said "Big Man" all of a sudden you are able to move mountains, the entire community is involved, and that is often the only way to have genuine protection. This needs to ultimately change in Jamaica, but until that point we filmmakers have to use it to our advantage, and approach our productions as if we are in the wild west, trying to get the stagecoach across the desert in one piece, without losing any passengers to the marauding cowboys.
YardEdge: Is the cast all Jamaican?
Storm: The cast and crew is entirely Jamaican except for Roger Guenveur Smith, who plays the role of the Prime Minister. He is such an inspiring and accomplished actor, that I believe his participation in the film raised the bar for all the other young actors, many of whom were first time actors.
YardEdge: Who else is involved in the production of the movie?
Storm: Better Mus' Come had an excellent crew. The Production Designer, Khalil Deane, was responsible for recreating a 1970's Central Kingston neighborhood, cars, signage, weapons, props. Every detail had to be true to the time period we were portraying. Charl Baker, Costume Designer, had to recreate that funky seventies style, as well as maintain the political consciousness that would have informed the fashion of the time (green being the favored color in JLP neighborhoods, orange and red being the preferred in PNP neighborhoods).
Tamika Nelson and Jackie Greaves were primarily responsible for makeup and hair (very different in the 70's compared to now). This is a massive job considering the fact that we had scenes with large numbers of extras, each requiring styling and makeup). Capt. Robert Hibbert was our stunt co-ordinator and weapons specialist. Training the actors how to properly handle their weapons and perform stunts safely. Wayne Armond and Marlon Stewart-Gaynor created the original score. Paul Bucknor was the producer. The entire community of Sandy Park, our main location, was fully behind us, and their participation really allowed us to tell the story we wanted to. Filmmaking is a seriously collaborative effort, involving many people, all of whom are essential.
YardEdge: What are the plans for the movie? Where will it be shown, Jamaica? Abroad?
Storm: International ting we a deal wid straight!
YardEdge: Tell us about some of your past work?
Storm: Everything I've done has led me to this point. So lets focus on this for now.
YardEdge: What inspires you to make movies? What are your greatest rewards?
Storm: To know that I've manifested something that was once a small whisper in the back of my head.
YardEdge: What do you think are the problems that the Jamaican film industry faces?
Storm: This is not the only country where access to funding is limited. So the "filmmakers" need to stop using that as an excuse and find a way to tell their stories. Once you show potential investors that you know how to make a successful product then they will come. But don't expect them to risk their money on something before its proven.
YardEdge: What do you think Jamaican film makers can teach others in the industry elsewhere?
Storm: I am a producer of the New Caribbean Cinema series. It is in essence, communal filmmaking. A group of filmmakers get together and work on each others films, like a round robin. In the end we will have at least 7 films by different directors, which we will put together to form one feature film at a fraction of the cost of a traditional feature film. We will also have at least 7 individual shorts that can travel on their own. I don't think we are re-inventing the wheel, but we are getting very high quality films made for very low budgets.
YardEdge: What do you think is the future of the Jamaican film industry, what should film makers focus on?
Storm: Actually making films instead of talking about making films.
YardEdge: Plans for the future? What's your next project?
Storm: It's time to take Better Mus' Come across the world. That's my next project.
YardEdge: Thanks!
More information on Better Mus' Come can be found at www.bettermuscome.com and www.facebook.com/BetterMusCome. You can also follow on twitter at twitter.com/bettermuscome.