Cooking with Virginia Burke, Author of Eat Caribbean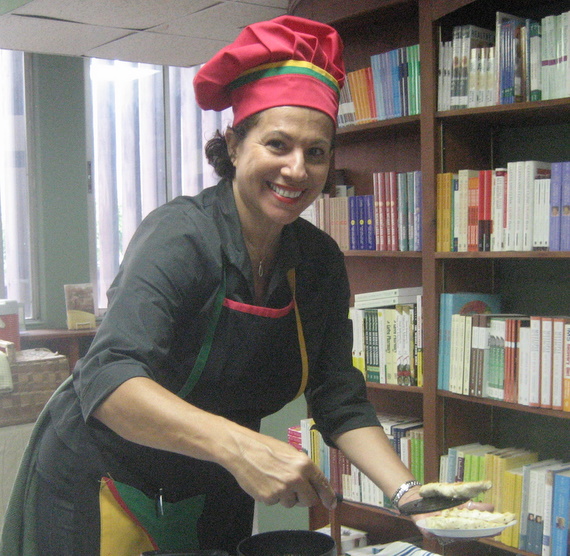 This past Saturday, Bookland on Knutsford Boulevard hosted a cooking demonstration and book signing with Virginia Burke, author of two Jamaican cookbooks, Eat Caribbean and Walkerswood Caribbean Kitchen. The event was well attended by foodies, bloggers and cooking enthusiasts who watched and listened attentively as Virginia ably demonstrated how to cook escoveitched chicken (yes, chicken not fish) and pumpkin cornmeal fritters with apple love sauce.

Virginia made it look so easy that even I, who is hardly a chef, was tempted to try the recipes, all of which are found in her two cookbooks. Both books contain many fabulous recipes, both traditional and modern, using flavours and foods from the Caribbean. Both books are also beautifully illustrated and so just nice to thumb through and you can get them locally at Bookland and other leading bookstores, as well as online in the rest of the world.
After the cooking demonstration, the audience was invited to sample the delicious and relatively healthy dishes. I also learned two things I didn't know, firstly that white pepper was simply finely ground black pepper, and secondly that coconut oil is actually delicious with certain dishes and not as bad for you as we've been led to believe.
I bought the Eat Caribbean book and today I'm trying to make the black bean dip! Looking forward to the next "cooking demonstration"!