The Toilet Paper Entrepreneur, Mike Michalowicz In Jamaica Inspiring Budding Entrepreneurs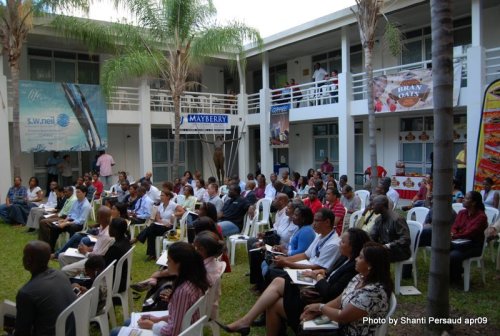 Toilet Paper? Ok. Sounds a bit strange but THE "Toilet Paper Entrepreneur" (TPE), Mike Michalowicz was in Jamaica recently to present at a U. Tech forum hosted by My Elite Grocer entitled "How to make it big in business even though the economy sucks wind" and it was well worth the price of admission ($500).

Mike's key message of "it's all in your head" (well mostly) was well received by the young entrepreneurs present even as he struggled to give away US$100.00 to make his point (if someone is offering you money, what's stopping you from taking it?).
Below is my attempt to sum up Mike's presentation in 10 points,
1. Change your beliefs- "It's all in your head", you have to truly believe that you can be successful in order to be successful
2. Implement the formula- your beliefs + what you focus on = your apparent action
3. Remind yourself often that you're the best at what you do
4. Find other successful persons to show you the way
5. Monitor your emotions- they are the best driver to entrepreneurial success
6. Have a 10 year vision- where do you want to be in 10 years?
7. But have a 90 day plan that gets you to your vision (this is called "tacking")
8. Trust yourself more than anyone else
9. Work relentlessly towards your goal, wanting it is not enough
10. In sum, wanting it + believing it + knowing you're going to get it + focusing on it + working relentlessly = entrepreneurial success.
So what are you passionate about?
For more details, you need to buy the book-Toilet Paper Entrepreneur by Mike Michalowicz
For more details and photos from Mike's visit see The Toilet Paper Entrepreneur