MSNBC's Television Personality & Author Mike Michalowicz Shares with Jamaican Entrepreneurs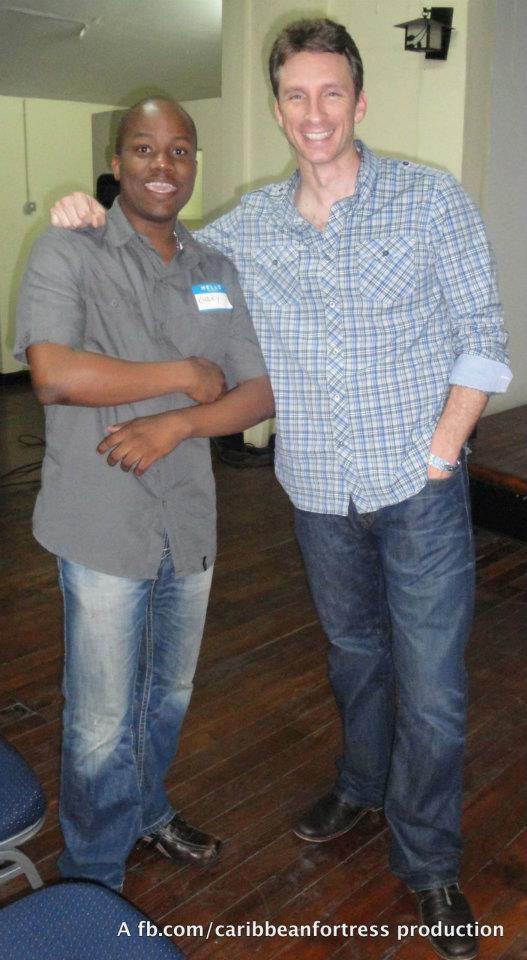 'The resume is not the reality.' This is the message that Mike Michalowicz, U.S entrepreneur, T.V personality and author of 'Toilet Paper Entrepreneur', sought to leave with his audience as he shared stories of his entrepreneurial journey to becoming the success he is today.
Caribbean Fortress' Gale Peart, at the request of Michalowicz, organized the event entitled 'Entrepreneurial Reflections with Mike Michalowicz'. A friendship spawned when Peart served as his host in 2009, along with sponsors, Mayberry Investments Limited.
This year, affiliate sponsors Social Calendar JA and Karin Wilson and Associates also joined. the event held this time at Liguanea Club in New Kingston.
While explaining to the audience that there is rarely ever an entrepreneurial success without pitfalls, Mike divulged the secrets of building his first computer business including sleeping under conference tables, moving into a retirement village with his young family, and shared a tearjerker of having lost everything soon after landing his first million.

Convinced this was a lesson from God for getting ahead of himself with excessive arrogance and show-boating with several material things, Michalowicz went on to discover that the true meaning of wealth can be found in an unlikely source – a child's simple gesture. The catalyst for 'digging' his way out of enormous debt resided in a change in mindset when Mike's then 10-year old daughter, Adele, offered, "Daddy, we are not broke. We have this – my piggy bank!"
Armed with renewed hope and confidence from his immediate family, Michalowicz re-charted his concept of wealth and amassed more money than before but now ever mindful one of life's biggest lessons – that of keeping arrogance in check by staying humble and to never take life for granted.
His appreciation for persons who take the risk of building a business was evident through his delight in noticing that majority of his audience were, in fact, entrepreneurs and business owners themselves.
In the true spirit of fostering unity and growth, Mike was only happy to share some more of the lessons he learned along the way. Along with encouraging all members of the audience that most successful people do not need to prove they are successful. Be ready he said to embrace new opportunities and experiences and where possible become niche specialists for therein lies a unique offering.
He enforced the message that people should do what makes them happy and use that to fuel exponential growth and success. Most importantly, entrepreneurs should acknowledge that friends and families may act supportive of their ventures to spare feelings but one should test their wallets to see if they show the same support.
Connect and do business with who chose to attend a business event on a Saturday night instead of opting for the hottest track and field event in town. This he felt spoke volumes about the attendees' entrepreneurial commitment and their capacity to do what is required for successful entrepreneurship – making serious sacrifice.
Jamaicans giving up the chance to see Bolt run – are you kidding me? Michalowicz's love for Jamaica was most evident as he proudly announced that he enjoyed Jackfruit, sugarcane and his new favourite – roadside, roas' yam and saltfish! The bright smile was pretty telling that when given the chance, he would be returning to our shores over and over again.
The keynote speaker also shared a fun, behavioural psychology exercise that challenged attendees to take on the perceived impossible task of a photographic memory, said to be found among 0.25% of the world's population, and a highly effective part of business networking. By the end of the evening, the audience gained success with the Michalowicz-taught mnemonic technique. This practical demonstration proved to attendees that with a paradigm shift, however small, nothing is impossible.
Excitement filled the room when it was announced that Jamaica has been included in Michalowicz's worldwide scavenger hunt where two (2) Penguin-published advance reader copies of 'The Pumpkin Plan' are to be hidden island wide. Once the books are found, a photograph reading the book will be posted on Michalowicz's fan page, the business' owner will be given an opportunity to be interviewed and the video circulated among Mike's business network inclusive of U.S media contacts, publisher and high net worth-friends from the Entrepreneurs' Organization (EO). Hints will be posted randomly at fb.com/caribbeanfortress and pre-orders for 'The Pumpkin Plan' can also be facilitated through Caribbean Fortress Ltd.
During the event, Chris Mills of Chrysalis Communications posted "Really enjoying this talk by @MikeMichalowicz…" This was quickly cosigned by Connectimass's C.E.O, Ingrid Riley. Team eMedia Interactive Ltd, was equally impressed. It was however a tweet from Blogger, StacyAnn Hayles that ultimately echoed inner thoughts best "Home from #PumpkinPlanJa – awesome event. Wonder if @MikeMichalowicz realizes that he's changing lives?"
Business networking and building, solid connections along with award-winning cheesecakes courtesy of Treasury of Desserts, Jamaican pumpkin-carving (a conversation piece) by Chef Theo Smith and pumpkin farming décor by Bridgette Anderson all together added a special element to the evening. Even after speaking, Mike moved around interacting and getting to know the persons who came to hear him speak – an invaluable gesture on his part.
Everyone left feeling inspired and more prepared for the challenges they would face as entrepreneurs. Most, if not all, are looking forward to reading Michalowicz's upcoming book, 'The Pumpkin Plan' that is scheduled for release by Penguin Group on July 5. His first book, U.S bestseller, 'Toilet Paper Entrepreneur', is currently available at Kingston Bookshop.
Caribbean Fortress Ltd offers speaker facilitation services and quarterly business events in the Caribbean. C.E.O Gale Peart, is a Director with the Women Business Owners Association (WBO), serves on the Private Sector of Jamaica's Trade Policy Committee and volunteers at St Andrew High School's Museum. The next business event is scheduled for August 2012 in Jamaica.
For further information, please contact Gale Peart at (1876) 564-8041 caribbeanfortress@hotmail.com