Debra Ehrhardt's "Jamaica Farewell" Returns to Jamaica Nov 10 – 28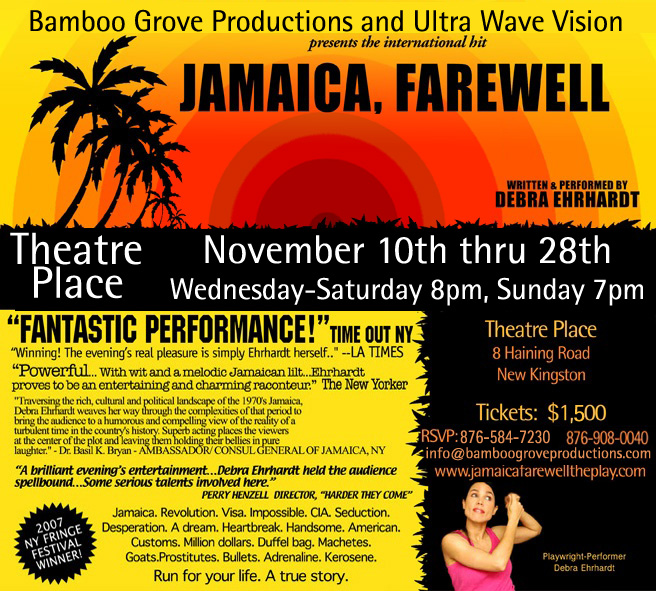 Debra Ehrhardt's one woman play "Jamaica Farewell" returns to Jamaica November 10 to 28.
Jamaica Farewell was written and is being performed  by Jamaican actress / writer Debra Ehrhardt  and is well worth seeing if you missed its first run. The plot centers around Debra's experience of Jamaica in the 70's and her journey to America…
See YardEdge's interview with Debra Ehrhardt .
PERFORMANCE DATES:
November 10th – 28th: Wednesdays – Sundays
Kingston Saturday 20th November SOLD OUT
Kingston Sunday 28th November SOLD OUT
Theatre Place, 18 Haining Road, Kingston
Wednesdays through Saturdays 8:00pm and Sundays at 7:00pm
December 3rd – Friday
Cecil Charlton Auditorium – 34 Hargreaves Avenue, Mandeville, Manchester at 7:00pm
December 4th and 5th – Saturday and Sunday at 8:00pm
Fairfield Theatre – The Fairfield, Montego Bay
Montego Bay Saturday December 4th SOLD OUT