YardEdge Talks to Jamaican Debra Ehrhardt – Writer, Actress, Producer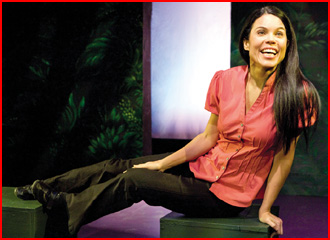 YardEdge: How would you describe your work?
Debra: My stories are inspired from my Jamaican background, and the totality of my life experiences. So you can say it's a mixture of: heart, drama and a lot of comedic moments.
YardEdge: When did you first realize that you wanted to become an actress and writer?

Debra: I always loved telling and acting out stories ever since I was a girl. Under the mango tree in my backyard was my first stage; my first and regular audience was my family. Whatever I wrote I always made my mother review it and she was always so encouraging.
YardEdge: Tell us about Jamaica Farewell (What is it about? What was its inspiration?)
Debra: Jamaica Farewell is based on my true about my journey from Jamaica to the United States during the Manley Era. I wrote it because it encapsulated one of the most adventurous, defining moments of my life.
YardEdge: How has the play been received so far?
Debra: I've performed for thousands of people in the United States, England, Mexico, Canada and the Caribbean on – numerous – occasions. What I find interesting is that no matter where I perform, regardless of the audience's background, they thoroughly enjoy it.
YardEdge: Have you written and staged plays before? If yes, where and what play?
Debra: I've written three plays. My first stage play, Mango, Mango was nominated for several NAACP awards. Fox Studios purchased the second one, Invisible Chairs, to turn into a sit-com. These plays were performed in California in the Lee Strasburg theatre in Hollywood.
YardEdge: How have you developed your skill (s) as a writer and actress?
Debra: In addition to my early days of writing and acting studies, like any professional, I' m always immersed in some form of continuing-education designed to improve my craft and skill. For example, I recently partook in a movement workshop for actors classical dancers. The other thing I do is learn from my mistakes. It's during those times that I learn the most.
YardEdge: What inspires you to write?
Debra: I love people. They intrigue me. I love finding out who they are and what makes them tick. What also inspires me to write is the desire to share with the world my Jamaican background and culture, and to give them a theatrical experience that's moving and inspirational.
YardEdge: What are your greatest challenges in your work?
Debra: Working with people who want to put me in a box and stereotype me. Also, it's quite a challenge working with some of the people who have enormous egos. Thank goodness for my Jamaican background because I'm very diplomatic and can find the humor in the most difficult situations.
YardEdge: What are your greatest rewards?
Debra: Knowing that the audience is satisfied and feels fulfilled after the end of my performance.
YardEdge: How has it been living and working as an actress in Hollywood?
Debra: I like living in Hollywood. But don't let that glamorous name, Hollywood, fool you. The competition is rough. You need to have a sense of self; your goals must be crystal clear; realize that show-business is part "show" and part "business."
YardEdge: How have you handled the business side of being a writer and actress?
Debra: Here's how I look at it: Today's actor must possess the entrepreneur attitude; they must be what I like to call an "artist-preneur." Don't wait for others to open doors for you. Be creative in opening for yourself. That's what I did. I created roles for myself when others gave me none.
YardEdge:  How would people who know you describe you?
Debra: I think they would say that I'm the Life of the party, that I love a good and hearty laugh and dat she can nyam yu si!
YardEdge:If you could be doing anything you wanted, what would that be?
Debra: I feel very grateful and blessed to be doing exactly what I love.
YardEdge: Plans for the future?
Debra: Working on the movie script for Jamaica Farewell, and writing Jamaica Farewell2.
YardEdge: What gets you up in the morning?
Debra: My husband, my children, my love for life.
YardEdge: Any regrets?
Debra: I don't regret anything. I've made a million mistakes in my life, but I needed to make them so I could grow and become wiser.
YardEdge: Final thoughts?
Debra: Anyone wanting to make it in show-business needs to be persistent, think smart about their career, and most important…be true to their heart. Do what you love and the money will follow.