Tmrw. Tday Culture Fest – The Wellness Programme Schedule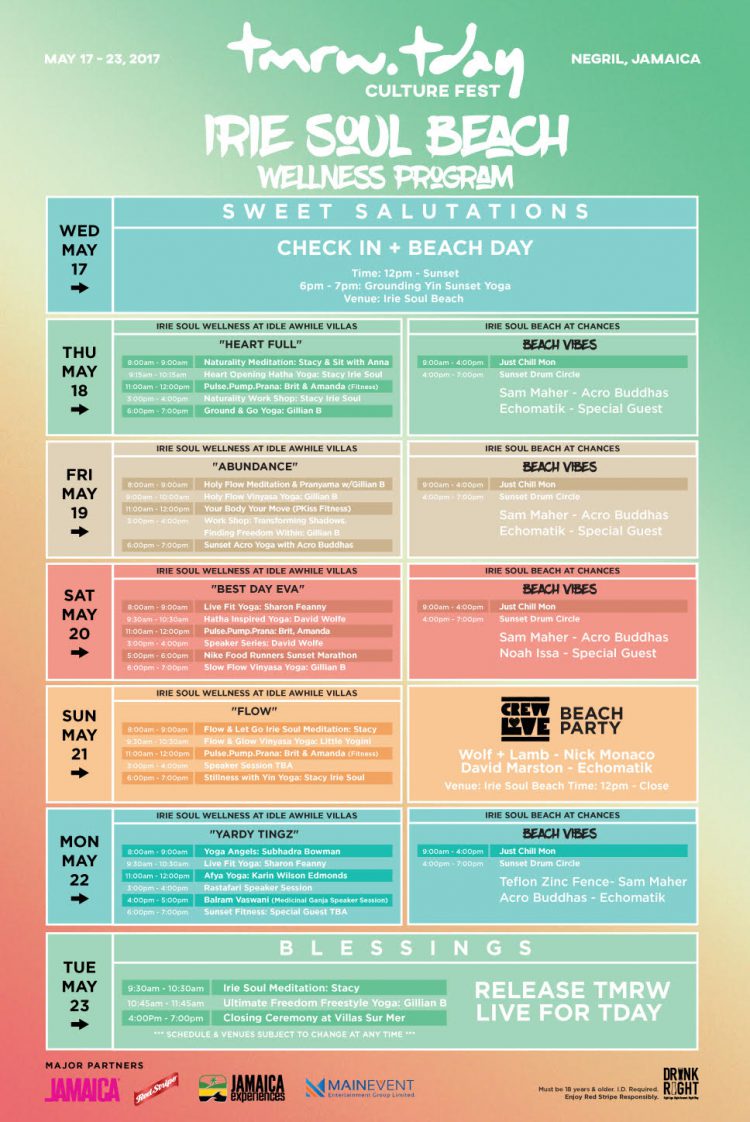 I'm excited to share the Tmrw.Tday Irie Soul Beach & Wellness Schedule – a part of the Tmrw.Tday Culture Fest happening in Negril, May 17-23. 
I'm teaching Hatha Yoga on Monday, May 22 so come join me!
The first annual Tmrw.Tday culture fest is a weeklong cultural gathering happening in Negril. It offers soul-enriching wellness, fitness, gastronomy, conscious music and experiences for all walks of life.
Tmrw.Tday aims to create a mindful and loving community built on values that challenge the current political, economic and environmental state across the globe.
Visit: www.TmrwTday.com/wellness
To buy tickets: Tickets Please. 
All about Tmrw.Tday Wellness
International wellness evangelist David "Avocado" Wolfe is the official ambassador of Tmrw.Tday.
Wolfe is highly passionate about educating individuals about the key to happiness and giving back to the world through self-love. "I love Tmrw.Tday's focus on health, wellness, yoga and the arts. This style of cultural immersion is a fresh way to elevate the lives of attendees. I love Jamaica and I'm am excited to return after 16 years. I am also excited to partake in Jamaican food, roots and herbs," said Wolfe.
Attendees will experience an oasis of unique daily offerings designed to help achieve a more conscious lifestyle.
Irie Soul Beach Attendees will discover a peaceful beach oasis where they are invited to engage in an invigorating wellness program designed to recharge and rejuvenate.
From sunrise yoga and guided meditations to water activities and beyond, cleanse the body, detoxify the mind and heal the spirit.
Throught the 7-Mile Food Festival and Gastronomy Program explore the true taste of Jamaica with bespoke food programming including the 7 Mile Food Festival, Hot Sauce Competition, Experiential Chef Series and Ital Rastafarian take on the Farm to Table concept.