Della Manley To Perform with Live Music Nation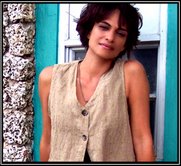 Della Manley is back on the live music scene in Kingston. Starting with two shows in Griot Music's Live Music Nation series Wednesday October 8 at Grosvenor Galleries and Saturday October 11 at Heather's Garden Restaurant, Della is focused on a new thrust in performance.
Having focused on recording her latest album, Barbican Square, Della Manley is well rehearsed and ready for her audience.
According to Della's bio, she is "at once beguiling and entrancing, she does not fit into anyone's convention of what may be considered normal. This is a good thing."
It is certainly hard to fit Della into any category; Della is neither a city girl nor a country girl, she is both a global citizen and an all-round Jamaican who has lived in Falmouth, Montego Bay, Kingston, Canada and Cuba. She seems reserved but seems to tell us everything through her voice and her lyrics.
She has had the privilege of working with some of Jamaica's best producers Ray Hitchins, the 'Bass Over Babylon' duo of Neil Case and Brian Jobson, the Firehouse Crew as well as our best musicians Beres Hammond, Seretse Small, Mutabaruka and Tarrus Riley. She has been inspired by Peter Tosh, Damian Marley, Damien Rice, John Mayer, Sting, Dave Mathews, Carly Simon, Joni Mitchell, Cat Stevens, James Taylor and Janis Ian.
Her bio is impressive, and includes large and small venue performances. "Her performances have taken her from New York to Barbados and include a stint on the North Coast for two years and various Jazz and Blues festivals.
She has opened shows for The Mighty Diamonds and Beres Hammond in Central Park, New York for the Jamaica Tourist Board's 'Jamaica Jamboree' where she 'mesmerized her audience as she unleashed the range and texture of her expressive voice, often blurring the stylistic lines between folk and pop' according to one enthusiastic review. In Jamaica, she has performed to rave reviews at venues such as Redbones the Blues Café and the Village Café.
The Live Music Nation series has seen two successful months featuring such local talent as Seretse Small, Ozou'ne, Fitzroy Bennett, Dennis Rushton, Kathy Brown, Ian Hird, Nicholas Laraque, iconic artists like Mickey Hanson and Harold Butler and new comers Bijean Gayle, Kamla Hamilton, Dre & KJ, Nina Karle and Janine Cunningham.
New venues around Kingston are adding live music to their menus and include Christopher's Jazz Café on Tuesday and Thursday, Grosvenor Galleries on Wednesday sponsored by Kingston Beer, Heather's Garden Restaurant on Saturday and The Village Blues Bar on Friday. Live Music Nation is endorsed by the Jamaica Tourist Board.
Upcoming Shows:
Wednesday October 8th at Grosvenor Galleries
1 Grosvenor Terrace, Kingston
Saturday October 11th at Heathers Garden Restaurant
9 Haining Road, Kingston
Showtime: 7:30pm
Tickets: $500
For more information, contact:
GRIOT MUSIC LIMITED
Jodi Ho Lung, VP-Marketing
http://www.griotpublishing.com