Rootz Underground in Concert Saturday at Hope Gardens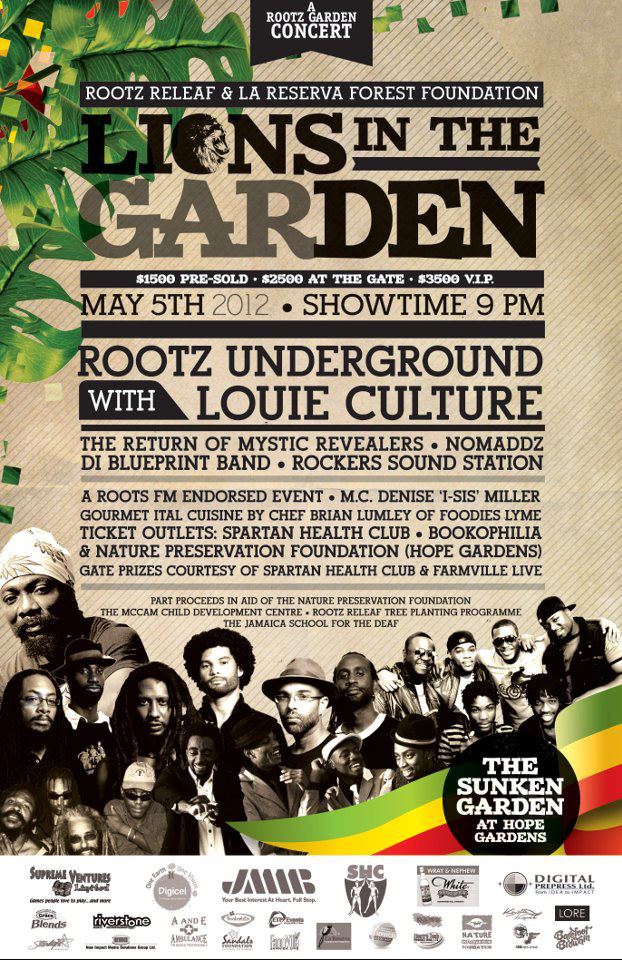 Rootz Underground will be in concert this Saturday, May 5!
Come out and support Live Music in Kingston as well as the Rootz Releaf Programme.
Pre-sale tickets are available at Bookophilia, Spartan Health Club and Hope Gardens.
Ticket prices are $1500 pre-sold and $2,500 at the gate. V.I.P. tickets are are $3,500. Patrons will receive a tree sapling to plant (whiles supplies last). Gate prizes will include a three month membership to Spartan Health Club.
Rootz Releaf & La Reserva Foundation present "Lions in the Garden", the second event of five concerts under the "Rootz Garden" banner scheduled in 2012 to benefit several charities- the Nature Preservation Foundation Jamaica, The McCam Child Development Centre, Jamaica School for the Deaf and the Rootz Releaf Program.
The first event held in February, "It's Growing" featured special guests Toots and the Maytals, Dubtonic Kru, Prophecy & The Band of Reggae w/ Iba Mahr & Droop Lion.
"Lions In the Garden" will be held at The Sunken Garden at Hope Gardens with gates at 7pm and ending at 1am.
The event features the original "Gangalee" Louie Culture who will bring his DJ skills to the garden party, as well as the return of the Mystic Revealers, the foundation roots and culture band who have not performed in Jamaica since the late 1990's, this performance marks their return to the live scene.
Nomaddz will perform their unique brand of dub poetry accompanied by music that crosses multiple genres as well as Di Blueprint band who will bring their soul-fused one drop riddims and conscious messaging to the party.

Also performing will be the explosive reggae-rock of Rootz Underground, fresh from an 18-date tour of the Western U.S. and Canada.
Video presentations from featured artists on the lineup will be screened as well as footage from the Rootz Releaf school tree-planting projects in Jamaica.
To date the program has visited five schools on the island and the Rootz Garden series benefits this endeavor directly. Expanded environmental school programs are planned for fall of 2012 that include toward zero-waste recycling education and soil conservation.
In partnership with La Reserva Forest Foundation in Costa Rica and Nature Preservation Foundation Jamaica, the Rootz Releaf eco-trust has planted a remarkable 75,000 trees since January 2009.
This tree-planting effort includes action by fans globally who take part in the Rootz Releaf effort individually, denoting their tree-planting on a global map hosted at rootzunderground.com/releaf.
The intention of the live concert series presented by Rootz Garden Productions is to "create awareness for the Rootz Releaf project and to be our voice towards something positive that we're already doing and what others are doing too."
Title sponsors for Lions in the Garden are Supreme Ventures Limited, Digicel & Jamaica Money Market Brokers.
Additional sponsors include Wray and Nephew, Digital Prepress Limited, Phoenix Printery, Spartan Health Club, The Sandals Foundation, Grace Kennedy & Co, Farmville Jamaica, The Nature Preservation Foundation, Lore Media, Starlight Entertainment, Riverstone Records, A and E Ambulance, Bookophilia, Barefoot Browning, Corporate Services Association, Guardsman Ltd.