Rootz Underground to perform with Israel Vibration tonight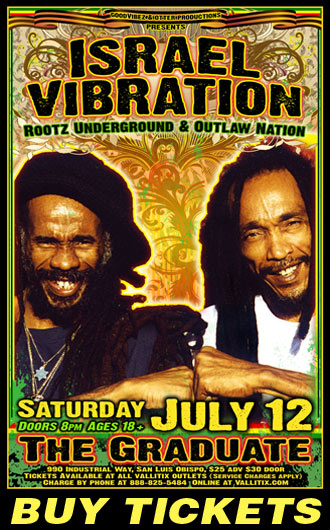 Rootz Underground (along with Outlaw Nation)  will be opening for international reggae superstars Israel Vibration on Saturday, July 12 at The Graduate in San Luis Obispo, California.

Israel Vibration members, Jamaicans Cecil Spence (Skelly) and Lascelle Bulgin (Wiss) have been playing together for some 30 years having met as children in a polio treatment center, along with former member Albert Craig (Apple).

Their positive messages of hope and other strong beliefs rooted in "rastafari" are clearly communicated in their music and have taken them to reggae stardom.

Often performing on crutches, their live shows are a unique experience, full of boundless energy and positivity.  They are an inspiration to watch.
Tickets are $25 advance at Vallitix locations (888-825-5484) or $30 at the door.
Show starts at 9 p.m.
Must be 18 and-older.