"It's a Reggaelution" Coming Dec 6 Feat. Buju Banton, Rootz Underground & Etana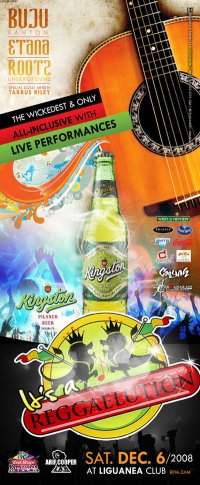 "It's a Reggaelution" fuses an all-inclusive party with performances from Buju Banton, Etana and Rootz Underground with a special appearance by Tarrus Riley.  This is Buju Banton's only performance in Jamaica for 2008.
This promises to be a great show at an interesting new venue.
DJ's -Renaissance & Arif "Supa Coop" Cooper.
Ticket outlets are:
Uppercuts-  Manor Centre/Orchid Village
Images- Liguanea, old post office
Shimmer- Millbrook Plaza
Just Call Delivery- 355-7390 or 7391
Cooyah- Constant Spring, Portmore, Devon House or Hope Rd
Genus Pharmacy- Portmore
For more information email:
rastafarirules@gmail.com