Ring Di Alarm Premieres August 13 – One Night Only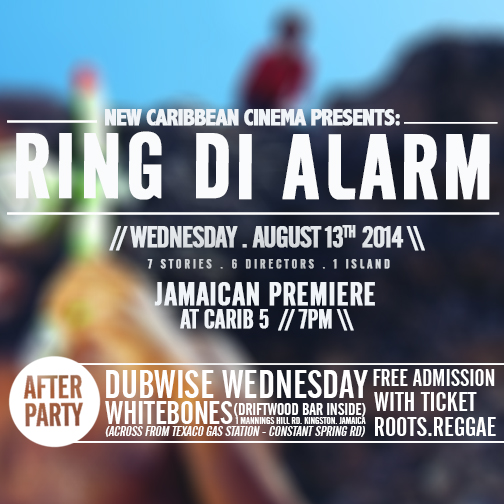 After a long and successful film festival circuit, the New Caribbean Cinema film finally makes its debut in Jamaica with a one night only event slated for August 13 at the Carib Cinema.
The film comprising 7 short stories by 6 different directors has made the rounds regionally and internationally at venues such as the British Film Institute, Tribeca Cinemas, World Cinema Amsterdam, the Pan African Film Festival in Los Angeles, the Trinidad and Tobago Film Festival, and most recently in St. Kitts and Nevis courtesy of the twin island's Ministry of Culture and Tourism.
The film features a diverse cast of actors, from the legendary Winston 'Bello' Bell, Karen Harriot, and Volier Johnson to the celebrated American actor Roger Guenveur Smith and a burgeoning new wave of Jamaican talent such as Chris Hutchinson, Raquel Jones, Ricardo Orgill, and Sheldon Shepherd and Oneil Peart of the Nomaddz.
The heart pumping music of Raging Fyah is also featured in the project, alongside music by the legendary artist Ken Boothe, all united by an original score composed by Seretse Small.
Ranging from comedic, to moody to stories of heartbreak and loss, the themes of this mosaic of Jamaican stories are as varied as its creators.
The directors Joel Burke, Michael Ras Tingle Tingling, Kyle Chin, Nile and Storm Saulter and Michelle Serieux have all brought their differences and individual styles as filmmakers to bear on this groundbreaking collaborative work.
"Audiences worldwide have been inspired by our effort, its all been a labour of love, from the crews who worked for us for free and the actors who took advantage of this opportunity to shine" said the film's producers Storm Saulter and Michelle Serieux. "We are really happy to finally show audiences what is possible with hard work, passion and commitment."
"For us Ring Di Alarm represents the burgeoning possibilities even in the most challenging of economic conditions. We want audiences, especially young people to come out and see this work, be entertained and inspired. We want them to know that with little resources and a lot of dedication, they can set out to achieve their goals, one step at a time."
Tickets are available at Base Kingston in Manor Park at a price of JA $1500.