Documentary Premiere of "Bad Friday" Thursday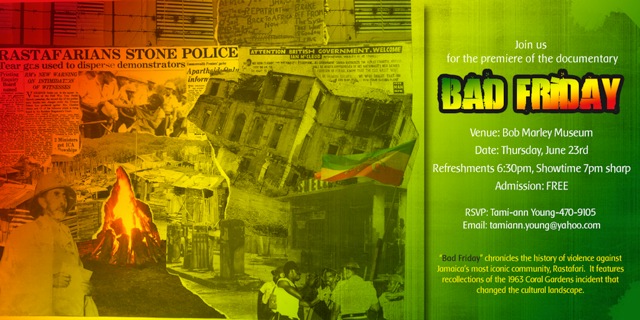 Come support the premiere of "Bad Friday", a documentary film this Thursday 6:30pm at the Bob Marley Museum.
This is a Kingston On The Edge (KOTE) endorsed event.
As many of you may have heard, there will be no KOTE 2011 but there will instead be a series of KOTE endorsed events in the coming weeks. I think this is the first one.
See KOTE facebook group for info on other events.
"BAD FRIDAY" chronicles the history of violence against Jamaica's most iconic community, Rastafari. It features recollections of the 1963 Coral Gardens incident that changed the cultural landscape.
Admission is free.
For more info see facebook page.