Jamaica Achieves Third Place in Global Drumming Competition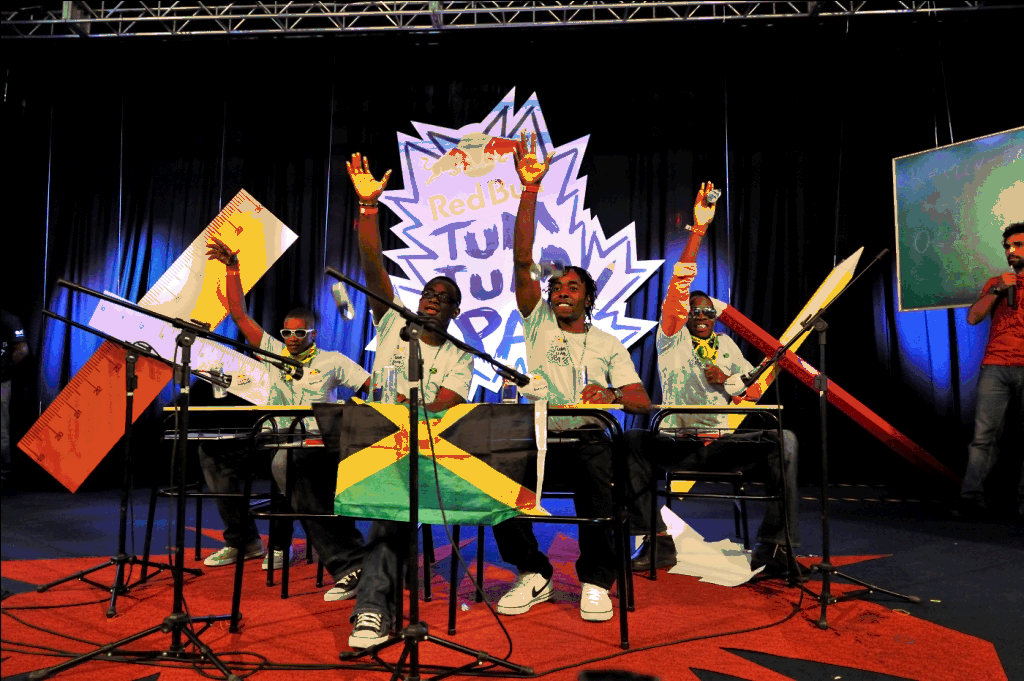 Jamaica just achieved an impressive third place in the first ever Red Bull Tum Tum Pa global university drumming competition.
Music is a universal language. Doesn't matter your nationality, race, male or female. Red Bull Tum Tum Pa gathered 150 students from different parts of the world in Rio de Janeiro, Brazil, to show that music really is a universal language.


Their eyes closed, their feet and hands moving fast to the sounds of sticks drumming on classroom tables and notepads – that's how team STB, Sexually Transmitted Beats, from Egypt made the Brazilian fans believe that rhythm also exist beyond the boarders of the land of samba. "A dream came true for us, we love Rio and we won the Red Bull Tum Tum Pa to show everyone how good Egyptians can shake!"
Surrounded by Sugar Loaf and the beaches of Rio de Janeiro, the world's best classroom drummers showed their talent, for producing sounds, in tune with each other and the crowd. From loud banging sounds to hushed clicks and snaps many notes were composed to represent 30 countries from Oriental chimes to Caribbean beats.
The host countries' team, Prostitutos do Ritmo, showed a buzzing drumming performance, and combined with their samba girls and gigolo costumes they made all 700 visitors get onto their feet to dance, which won them the second place. "Having our friends support here in Rio and the samba in our blood, made all the difference for us!"
The runner-up team also had rhythm in their blood and Bob Marley as music idol, Ground Zero, from Jamaica said "We love drumming and reggae and we're glad Brazilians like this too!"
All participants of the Red Bull Tum Tum Pa had one thing in common, The Sick Beats from Albania put it like this: "Being on stage was the best moment of the weekend. Rio was the best prize to win!"
Red Bull Tum Tum Pa World Final Rankings:
First Place:
Team: STB (Sexually Transmitted Beats)/ Egypt (119 points)
Participants: Shahir Iskandar, Youssef Mahmoud, Nayir Osama e Ahmed El Din
Runner Up:
Team: Prostitutos do Ritmo – Univ. Mackenzie, São Paulo/ Brasil (115 points)
Participants: Emerson Miranda, Fellini Conti, Marcos Antonio Lucas Jr e Luis Antonio Manso da Silva
Third Place:
Team: Ground Zero/ Jamaica (112 points)
Participants: Whynn Phyllip, Kemoy Allen, Blake Kamardo e Lewin Alton