Introducing Irie Rock – A New Line of Jamaican Natural Body Care Products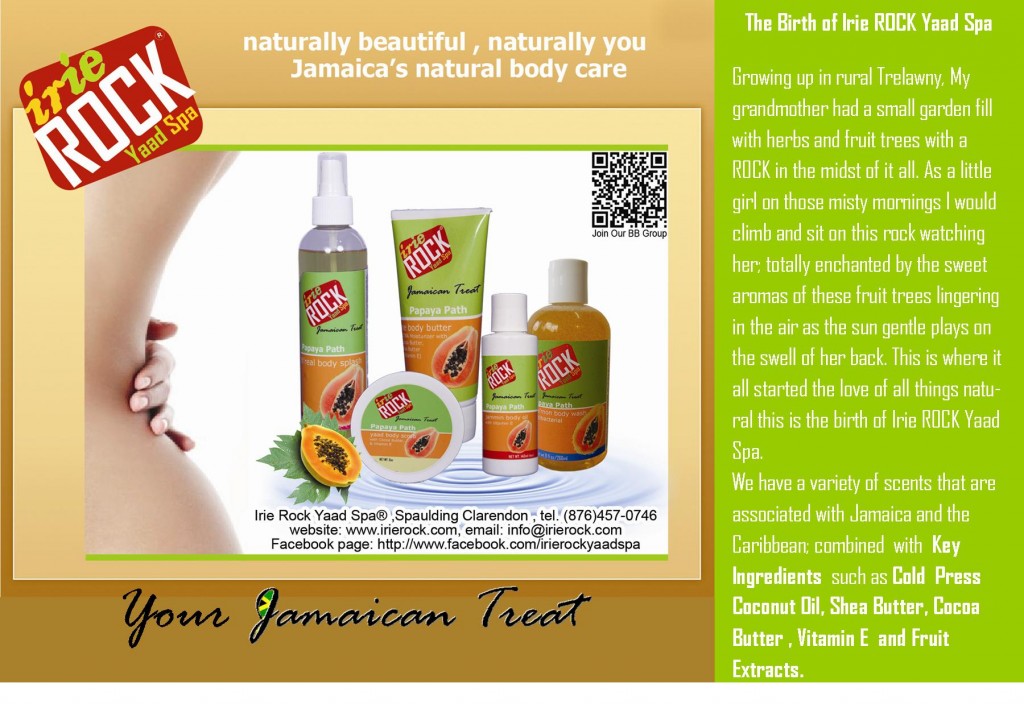 Irie ROCK – Naturally Beautiful, Naturally You. Jamaica's Natural Body Care
Many times lessons learned in childhood can last a person a lifetime. This is what happened to Irie Rock's founder Racquell Brown while growing up in the parish of Trelawny.
Surrounded by fruit trees and herbs, Racquell often spent her days with her grandmother completely enchanted by the various aromas lingering in the air. This was how her love for all things natural began and more importantly it was from this love of nature that Irie Rock was born.
Irie Rock officially started production a little more than three years ago however the concept and legwork for the brand has been in place many years before that.

"I was working as a chartered marketer in the UK," Racquell explains, "where, because of my sensitive skin, I started to make natural products which would help my skin. When I came back home (to Jamaica) I just continued to make products for both myself and a few others."
While working at Jamaica Standard Products, Racquell cultivated dreams of creating a brand of her own. It just so happened that she would get her opportunity as the company begun taking redundancy action in order to balance their books.
Fortunately, Racquell had a whole year to prepare for that eventuality. "After the first wave of redundancies, I took my whole 2 week vacation and acquired my first set of customers.
Literally a year after, I was let go which was good for me as it gave me an opportunity to finally focus my marketing talents on my own business." In fact only a month after, Irie Rock gained its first significant client with the Super Clubs Group.
Since then Irie Rock's spa clientele has expanded to include Rosehall Resort and Spa, Grand Bahia Principle Spa, and Renova Spa among others.
In addition, Irie Rock has now personalized the spa experience with the release of a retail line with a view to service both the local consumer and tourists alike.
Stores island-wide such as Monarch Pharmacy, Chukka Caribbean, Things Jamaican and Fontana Pharmacy all carry the retail brand and with more stores lining up, Racquell is understandably pleased.
"People exposed to the brand have been extremely loyal to Irie Rock. For any business person, to see that it is uplifting because it means your product is really leaving a mark." She says with a smile.
Irie Rock has plans to release a corporate/hospitality line complete with hand sanitizers, hand washes and lotions in the near future. "I, literally, plan to have Irie Rock in every bathroom across the island. That is my goal then after that I move on to a next country." Racquell states defiantly. Not bad for a company that has its origins in the back of a small garden in Trelawny.
Irie Rock's retail line includes: Irie Body Butter, Jammin Body/Massage Oil, Yaad Body Scrub, Fi Real Body Splash and Yea'man Body Wash.
The natural scents featured by Irie Rock so far are: Mango Walk, Coconut Sensation, Papaya Path, Citrus Fields, Coffee Delight, Vanilla Bliss, Pineapple Express, Jamaican Coca Butter, Pink Grapefruit, Watermelon Fresh and Passion (I Dare You) proceeds from which are donated to a different charity each year.
For more information contact Irie Rock Yaad Spa®, Spaldings Clarendon
Tel. (876)457-0746 Website www.irierock.com
Email: info@irierock.com
Facebook page: facebook.com/irierockyaadspa