YardEdge Talks to New York Dancehall Dancer Hanna Herbertson

While on a recent visit to New York, I met Swedish New York based Dancer, Choreographer and Dancehall Dance Teacher Hanna Herbertson and was intrigued…
YardEdge: Why are you a dancer?
Hanna: I have no choice not to be a dancer. It's an instinct that I was born with and that can't be turned off or be repressed and it's something I really enjoy doing.
YardEdge: When did you first become one?
Hanna: I started dancing before I could walk; I have footage of me doing the bird dance as a toddler. Started dancing professionally around the age of 15.
YardEdge: How would you describe your work?

Hanna: My choreography is a fusion of Jamaican dancehall and other ethnic styles that I'm inspired by. I strive to always be innovative and I'm not scared of being different but at the same time keeping a strong link to the roots of the culture and the dance.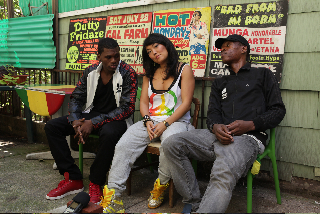 YardEdge: What type of dance do you do?
Hanna: I don't want to pigeonhole myself; I always try to be a versatile dancer/choreographer. The styles I've been practicing the most are hip-hop, street jazz and dancehall. I've focused mainly on dancehall in the last two years.
Other styles I've tried over the years for example are tap, ballet, jazz, African, belly dance, salsa and Tahitian dance.
YardEdge: How did you get interested in dancehall?
Hanna: When I first heard Chaka Demus and Pliers on the on the radio back in the 90's in Sweden I knew I loved the music. Then when Sean Paul blew up and I saw the dancing in the video to "Gimmie The Light", I knew it was something that was for me.
I was travelling a lot to the southern parts of Europe and discovered that dancehall, or ragga dance as they call it, was something that you could go and learn at the dance schools. I took classes and learned new moves, gained confidence and decided to bring in more and more of the Caribbean vibe to my classes in Sweden.
My interest in dancehall culture and dance kept growing until it became a predominant part of my life.
YardEdge: When and why did you start teaching?
Hanna: Around the early 2000's. I was assisting a hip-hop teacher and she let me teach her classes. I started teaching my own classes shortly after that. I wasn't planning on becoming a teacher but I enjoyed it.
It's very rewarding, for example, when I see a person that knows nothing about dancehall or dancing develop a love for the culture and the dances or when students who were shy in the beginning gain confidence and start accompanying me to parties and dance as opposed to standing against the wall.
It's a very rewarding job to introduce and teach people about the wonderful world of dance.
YardEdge: What appeals to you about dancehall dance and Jamaican culture?
Hanna: The energy, attitude, creativity, the humor, the fashion… I could go on for days.
YardEdge: Have you danced/performed in Jamaica? If yes, what was that experience like?
Hanna: I have taught a couple of classes and I have danced at parties. Haven't done any stage shows, YET.
YardEdge: Which company/group do you dance with, if any?
Hanna: I founded Blackgold dance crew together with two other choreographers, History and Genius, about 1.5 years ago here in NYC.
We perform, dance with artists and teach classes.
YardEdge: What artists/dancers have influenced you and how?
Hanna: So many it's hard to name just a few. The father of dancehall, Bogle, of course.
I want to big up all dance crews in JA doing their thing and being open and positive when I come down there to visit. Special shout out to Matthew and Conray from Shady Squad.
Some of the artists that inspire me are Keida, Mavado, Busy Signal, Vybz Kartel, Natel, Sean Paul, Stylo G, Natalie Storm and many more.
YardEdge: What other interests do you have outside of dance?
Hanna: Music. I am currently practicing the art of dee jaying. I love to cook and enjoy quality time with friends and family. That's something that is not a given when working day and night in NYC and having family far away on another continent.
YardEdge: What inspires you to keep motivated when things get tough?
Hanna: I always try to surround myself with people that are positive and inspiring so when times get tough I know I have a good support network. My mother is one of my greatest inspirations and serves as my motivation. She is a strong, independent woman that manages to stay positive and strong even when times are tough.
YardEdge: What are the best and worst parts of being a dancer?
Hanna: Doing what you love for a living is a privilege and I feel very blessed. Freedom to set your own schedule and constantly have an outlet for your creativity.
The worst parts are the uncertainty, where your next paycheck will come from etc. Often having to explain to people that dancing is something that I do for a living and therefore I'm entitled to get proper pay for it. Dancers have an extremely short career span and the jobs are not growing on trees.
YardEdge: How have you developed your skill?
Hanna: Training, training and training. Taken classes from some of the most renowned teachers in different genres. Travelled to learn different styles and get familiar with various cultures.
The hunger to learn as much as I can has brought me to many places. I've also been blessed with the opportunity to perform and teach all over Europe, North America and in Jamaica.
YardEdge: Do you dance professionally? i.e. Get paid to dance?
Hanna: Yes
YardEdge: What's going on in your head when you're performing?
Hanna: It's an euphoric rush to perform. I think about connecting with my audience, that's the most important thing as a performer. To catch peoples attention is easy but to keep it that is harder.
YardEdge: Where do you see yourself in 10 years?
Hanna: I'll be working within the entertainment /health wellness business. I'll have a family and a couple of houses strategically placed in NYC, Sweden and Jamaica 🙂
YardEdge: If you could be doing anything you wanted, what would that be?
Hanna: I would like to continue to spread the dancehall culture, my work and my dance crew's work. Travel around the world and inspire/be inspired.
YardEdge: What makes you want to get up out of bed in the morning?
Hanna: I love life and have always been an energetic person. Life and health are precious so I try to make the most of the time I've got on this planet.
YardEdge: Upcoming projects?
Hanna: My dance crew are working on releasing a mixtape with tunes from our past shows and classes. Along with the mixtape we are going to premiere a short video with dance clips and an interview. Shouts to our DJs Gravy and Select and Basslines who made the video.
Blackgold also has a show coming up at an event honoring Caribbean writer Edouard Glissant. We will perform in front of scholars and curators from museums such as the Moma. I really enjoy performing dancehall to different types of crowds so I'm really looking forward to this one.
YardEdge: Final thoughts?
I would like big up YardEdge for recognizing my work and taking time to get to know me and my art better.
Keep doing your thing taking Jamaica to the world!
You can contact Hanna at hanna@hannaherbertson.com or via her website hannaherbertson.com