eNKompan.E Workshop Weekend for Dancers Explores Dance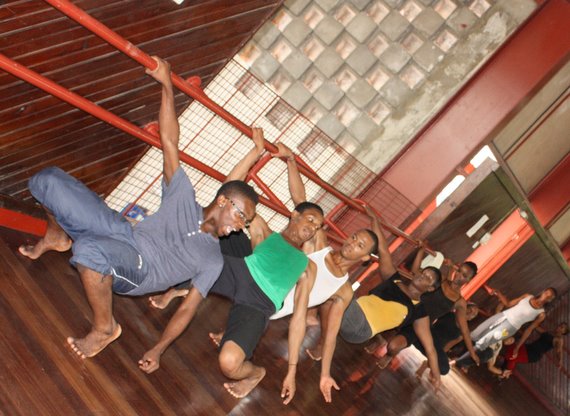 eNKompan.E  will be staging a weekend workshop for dancers next weekend, November 6th and 7th with Oneil Pryce and Safi Harriott, facilitated by Neila Ebanks.
eNKompan.E is a dance performance and teaching organization led by Neila Ebanks. Its purpose is to be a motivator for consciousness and change with respect to dance and its possibilities in Jamaica. Through workshop offerings, performances and other "out of the box" dance/dance-related events, eNKompan.E seeks to expand our local consciousness of what dance is and what it can offer to our artistic and social environment.

This workshop is for dancers of all types and levels, especially for those seeking something different in their dance experience, persons looking to explore possibilities to use dance for personal development, art therapy and social intervention. According to Safi Harriot one of the workshop organizers, "eNKompan.E seeks to open up a space in our dance environment for this sort of exploration; to build bridges and make connections across the local dance world so that we can expand our view on what dance is and who dances or makes dance".
This workshop follows an earlier workshop offered at Kingston on the Edge this year and will be more focused on the following techniques: Contact Improvisation and Partnering with Safi Harriott and Beyond the Barre with Oneil Pryce.
Safi descripbes Contact Improvisation  as "a dance form in which partners tune their attention to and follow a point of physical contact with one another. Following the point of contact leads partners further into their dancing as they explore the creative possibilities of touch, weight sharing, counterbalance and lifts all in an improvised manner. It is usually associated with a great spirit of play, collaboration, and being daring while knowing the boundaries of physical safety. Sometimes we assume dance has to be a strict or somber exercise, or that is has to be ultimately about perfection or looking exactly like the leading dancers. This form shows us that dance can be about a process of listening, creative problem solving and, when it comes down to it, that dance can be fundamentally about liberation".
Safi is a graduate of Bard College (Dance/Anthropology) and is currently a visiting lecturer at Excelsior Community College Performing Arts Department and is a freelance performer-choreographer and workshop facilitator.
Oneil Pryce's Beyond the Barre Workshop will explore the Ballet Barre and its possibilities, challenging the traditional purposes of the dance barre. Oneil says, "Forget about the notion of light support. Lets get physical. Lets dance on it, over it, through it around it and with it."
Oneil is a dancer, choreographer and lecturer at the Edna Manley College School of Dance and professes a love and fascination with objects and their possibilities, seeking to use them in new and exciting ways. Oneil takes the ballet barre, a familiar and mundane object for vast numbers of dance students and re-imagines its purpose, shifting our perception and opening up new creative possibilities. The reorientation demanded by getting over, under, through and on the ballet barre provides an exciting and athletic puzzle and a way to shake up our expectations of dance technique.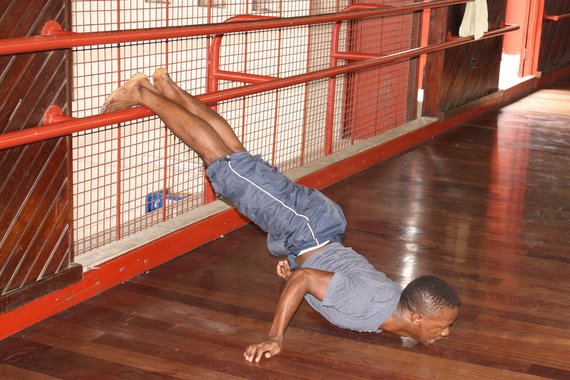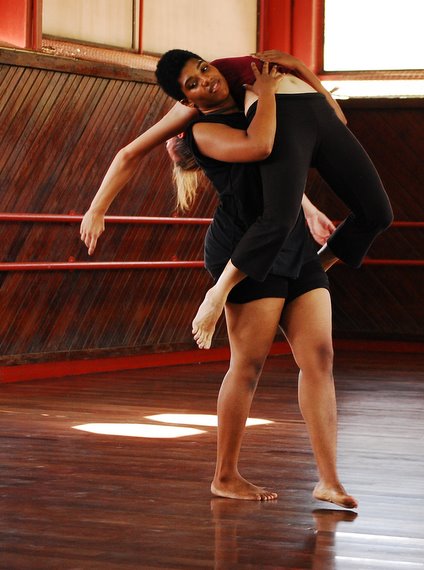 Photos courtesy of Ricardo Lewis and Shelly-Ann Chung.
WHEN? Saturday November 6th
Registration and Sign in 2:30 to 3pm
Contact Improvisation 3pm to 5 pm
Beyond the Barre 5:30 to 7:30 pm
Sunday November 7th
Registration and Sign in 9:30 am to 10am
Contact Improvisation 10 am to 12 noon
Beyond the Barre 12:30 pm to 2:30 pm
WHERE? The NDTC Studio c/o Little Theatre, Tom Redcam
TUITION? DISCOUNTS FOR PARTICIPATING IN BOTH WORKSHOPS AND ADDITIONAL DISCOUNTS FOR STUDENTS WITH VALID ID
$1,500 for single workshop; $2, 500 for both
WITH STUDENT ID:
$1,000 for single workshop; $ 1,500 for both
CONTACT INFO? enkompan.e@gmail.com or call 835 2832.