Two KOTE Events for Dancers Saturday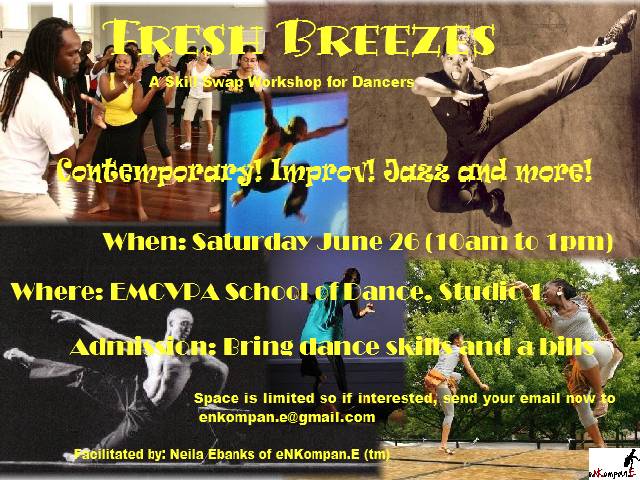 During this year's Kingston on the Edge performer-choreographer Neila Ebanks is facilitating several events through her emerging performance and teaching entity, eNKompan.E ™.
The Fresh Breeze Workshop for Dancers happens Saturday June 26 at School of Dance, and represents an exciting possibility for Jamaica's dance environment.

eNKompan.E™ presents this workshop with Lisa Wilson, Tamara Thomas, Safi Harriott, Michael Holgate, Oneil Pryce, and Marlon Simms. These six teacher-sharers will come together to offer a special class, exploring multiple dance techniques ranging from Afro-Caribbean to Contact Improvisation, from exploring the Barre to using Fabric as a Partner, from Jazz Repertoire to Hip Hop and West African Fusion.
Start time is 10am and closing is 1pm.
This time only eNKompan.E™ offers this experience for the very small contribution of $100 to assist with the studio rental. This is an invitation to all dancers and curious bodies to dive in and soak up an exciting, challenging dance experience that will work both the body and the mind. The workshop will also include opportunities for participants' own processing and feedback.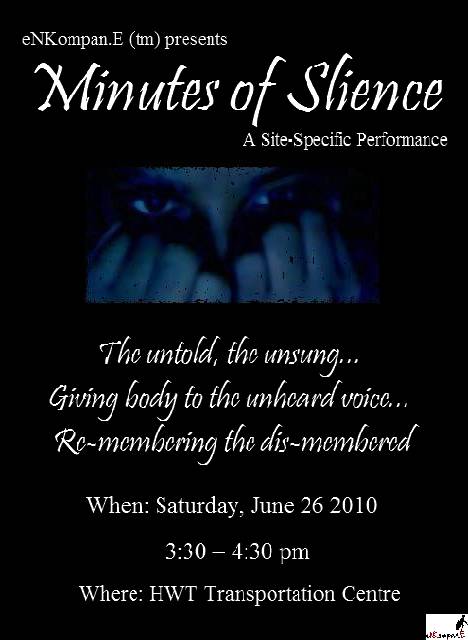 Minutes of Silence is a Site Specific improvised performance happening this Saturday afternoon (June 26) at 3:30 at the Half Way Tree Transportation Centre, rain or shine!
Using minimal gestures, stillness, distortion and other movement possibilities, performers will create a pause where ambiguities, conflicting feelings and half formed thoughts on our collective history and present reality of violence can come to surface.
The project offers audience members space to reflect and consider some questions of the moment rather than presenting a finished opinion.
eNKompan.E invites all passers-by to take a step back, a moment's pause, before continuing on with their routine.