Book Launch and Tribute to Wayne Brown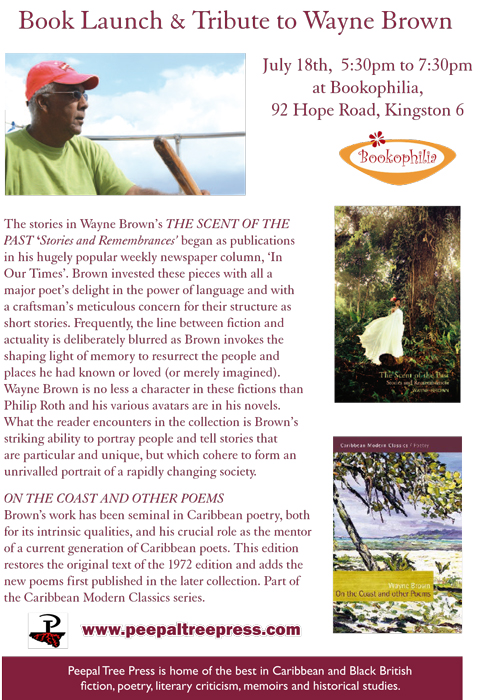 On Monday July 18, at 5:30 p.m., Bookophilia will launch two titles, from legendary poet, memoirist, journalist, literary scholar and creative writing teacher, the late Wayne Vincent Brown.
The two collections, "On the Coast and other Poems" and "The Scent of The Past & Other Stories", were posthumously published by Peepal Tree Press in November 2010 and May 2011 respectively.

The evening will see Professor Mervyn Morris, Dr. Kim Walcott, Professor Edward Baugh and others read fiction and poetry in honour of this literary great, with musical musings by jazz musician, Seretse Small.
ABOUT THE AUTHOR
Born in Trinidad in 1944, Wayne Brown read English at the University of the West Indies in Jamaica, he lived mainly between the two countries until his death in 2009.
Wayne Brown was a Gregory Fellow in Poetry at the University of Leeds, England, a Fulbright Scholar in the USA, and a Fellow of Yaddo, MacDowell, The Virginia Center for the Creative Arts, and the Rockefeller Foundation. He lectured in English Literature in the USA, as well as, at both the Trinidadian and Jamaican campuses of the University of the West Indies.
Between 1984 and 2009, some 3,500 editions of his column "In Our Time" appeared in Trinidadian and Jamaican newspapers; and between February and November 2008, he wrote a weekly column, "The Race for the White House", which appeared in the Sunday editions of "The Trinidad Express", "The Nation" (Barbados) and "Stabroek News" (Guyana). For six months in 2009, he wrote a column called "In the Obama Era", before returning to "In Our Time".
Wayne Brown was the editor of the literary pages of "The Sunday Observer" and "The Sunday Gleaner" and was the founder?tutor of "The Creative Writing Workshop". He also tutored in Creative Writing (fiction, non-fiction and poetry) in the low-residency MFA Creative Writing program of Lesley University, MA; taught Creative Writing (Poetry) at the UWI, Mona Campusc and taught an online creative writing course for Stanford University.
His books include "On The Coast", which was awarded The Commonwealth Prize for Poetry, and was a Poetry Book Society recommendation; "Edna Manley: The Private Years" – a biography of the Jamaican sculptress; a second volume of poems, "Voyages"; and "The Child of the Sea", a collection of short stories and remembrances.
He edited and produced several anthologies of Jamaican fiction and poetry, including "Derek Walcott: Selected Poetry".
For more see facebook