The Digicel Downtown Mural Part 1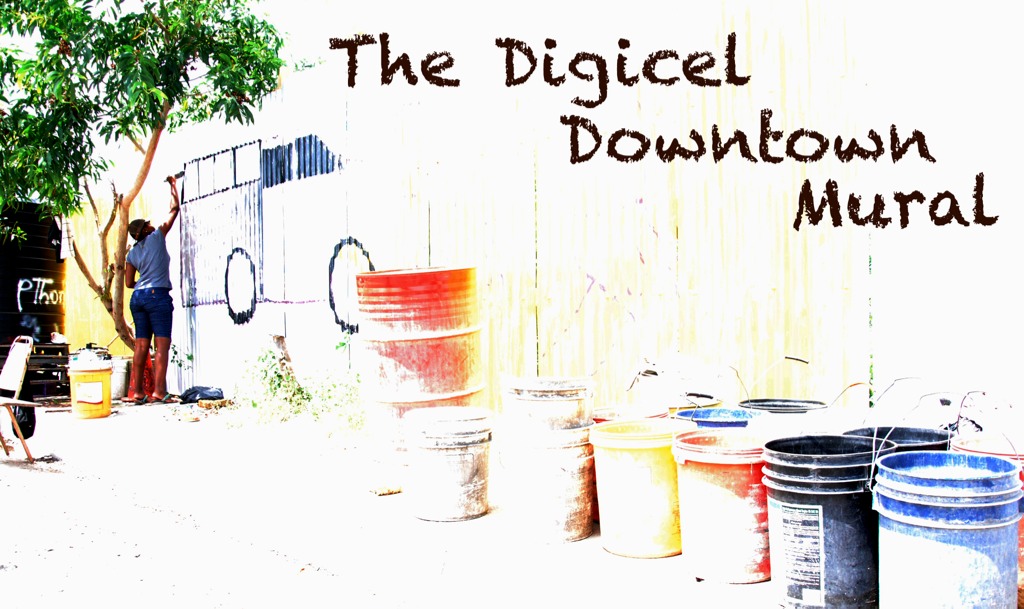 YardEdge once again welcomes a guest post from fellow Blogger, Berette Macaulay, who ventured downtown to investigate the Digicel downtown mural…
For the past month an exciting new project has been underway in downtown Kingston by the waterfront, a Digicel commissioned art mural covering some 2000 + sq ft of aluminum zinc walls enclosing a city block construction site of the phone company's new head office.
Digicel commissoned artists from six downtown art organizations to put together creative teams for the job totalling nearly 40 painters, including young students from Edna Manley and Studio 174, self taught community artists, and established veterans in the art world.
Each colourful group creation depicts either a historical or contemporary aspect of downtown culture, designed by group leaders or collaboratively.
The rough estimate for the construction of Digicel's head office is two to four years which means the mural won't be permanent, but it will be a bright addition to the downtown environs for a reasonable period.
It's just a block away from the National Gallery, Studio 174, and Roktowa – making this neck of the woods a hot spot not only for an inspiring art walk, but also to perhaps witness the real beginnings of a revitalized downtown Kingston scene.


The Art Groups and the Artists:
Edna Manley School of Arts: Leader – Omari "African" Ra, Artists: Matthew McCarthy, Okeeno Cato, Esther Chin, Dale Bedasse, Dominique Grant (all current students)
Multi-Care Visual Artists: Leader – Monique Barnett, Artists: Hakeem Barrett, Crystal Barrett, Dushaine Lorraine, Damian Richards, Sheldon Clayton (mostly self-taught)
Rastafarian Artisan Studio at 33 Laws Street: Leader – Abbebe Payne, Artists: Andwele Haughton, Cebert Gordon, Stokely Campbell, Golden Yesus, Clinton Payne, Ras Trevor Campbell, Trevor Earl Witter (mix of self taught and Edna Manley graduates)
Studio 174 founded by Rozi Chung (called on board by NGJ): Leader – Camille Cheddar, Artists: Jamila Cooper, Albert Walker, Alicia Brown, Jowaine Graham, Dwayne Beckford, Mark Bogie, Christopher Harris
National Gallery of Jamaica: Leader – Ebony G. Patterson, Artists: Mark Samuels, Peter Samaru, Monique Lyn, Ali Mustafa, Andre Morgan
LOGO Team: Leader – Ian Simon, Artists: Camille McIntosh, Emerald Easy, David Samauels
All photos contributed by Berette Macaulay