YardEdge Talks to Chef Paul Griffith Cooking up a Caribbean Storm in South Florida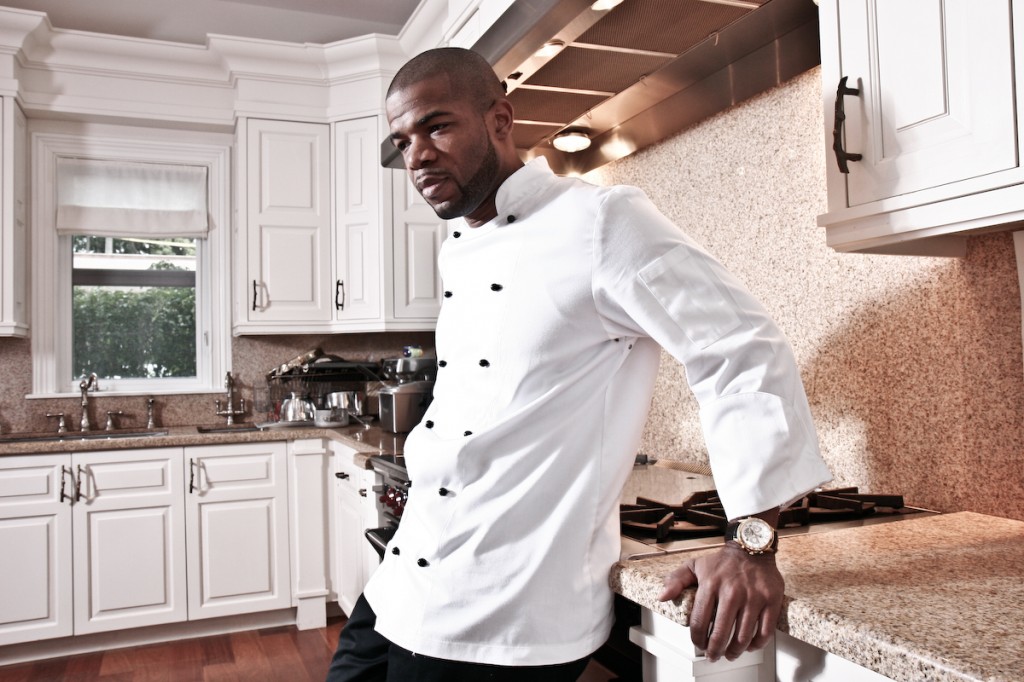 YardEdge once again welcomes Guest Blogger, Ian Ferguson who recently chatted with Paul Griffith, an accomplished chef from Barbados now based in South Florida. (Yes, we know he's not Jamaican but every now and then YardEdge takes the opportunity to showcase our talented Caribbean brothers and sisters).
Chef Paul has been praised as being one of the most exciting young "culinary adventurers" in South Florida and has cooked for some of the biggest names in the Industry including Denzel Washington, Enrique Iglesias, Lenny Kravitz, Sean "Diddy" Combs and others blending the flavors of his island with cuisine from around the world. "Chef Paul" shares with Ian a glimpse of his life story and what keeps him going.
YardEdge: Some people may know your story, but how did you become a chef?

Chef Paul: Hmmm, good question. How does one really become a chef? LOL Well I loved to cook as a kid, watching my mother and grandmother cook intrigued me into how food was made. Well, to be honest, I was quite greedy, and if they didn't make it for me, I guess I had to learn how to make it myself. LOL Attending culinary school at Johnson & Wales University and acquiring my B.A in Culinary Arts also certainly added to me becoming a chef.
YardEdge: When did you first realize that you wanted to become one?
Chef Paul: It was around age 7 or 8, at home one summer watching "The Frugal Gourmet" and Jeff Smith make pizza dough which made me be in the mood for pizza. Needless to say, the oversized hard dough sour cookie I produced didn't deter me from keep trying and trying again till it was perfected and I started selling pizzas at school for extra money. Young Entrepreneur. LOL
YardEdge: How did you first get discovered as a talented chef?
Chef Paul: My friend in Culinary School Simone Greg was looking for someone to help out with preparing meals for the legendary reggae band from Jamaica, Inner Circle at their new studio in Miami. I wasn't too familiar with the band but I was sure enough familiar with their hits "Sweat" & "Badboy!" It was at this studio over the next 6 years or so ( I lose count) that people started to comment on my talents and started to ask questions about my cooking.
I owe so much to Inner Circle as they were my early critics towards my craft and guided me on what tasted good or not. They weren't afraid to tell me, "Chef hit a BOOM or lauw that" LOL It was when I was hired full time by mega produced Dallas Austin that I realized people were taking notice of what I was doing.
YardEdge: How would you describe the food that you prepare?
Chef Paul: Fusion cuisine is how I would describe it. I don't stick to one particular region or the other as it can be limiting in culinary growth. Exploring all types of cuisine allows for more induction of flavours, colours, textures and visual appeal. I'm always walking in the supermarkets or general markets just looking at the new products (local or international) that came in and how those products can be incorporated in my style of cooking. Nothing is off limits from me really. LOL
YardEdge: What was it like to be mentored by one of Jamaica's most inspirational chefs (Simone Gregg)?
Chef Paul: Simone is one of the gentlest souls I know out there and I've learnt so much from her from the cooking aspect to the business aspect to just knowing how to represent one self. I owe her so much gratitude for how she has helped shaped my career.
YardEdge: Does Simone Gregg still influence how you approach the preparation of food?
Chef Paul: HAHAHAHA, this sounds like a trick question. LOL Simone's personality is an influence itself and yes I've taken plenty notes from her and how she is as a person. Humble, happy, soft spoken and driven toward a goal without stepping on anyone's feet. This is all translated into the way I think when I cook or prepare meals for my clients. Believe it or not, your personality and attitude is heavily reflected into your food or how people relate to your culinary tastes.
YardEdge: You are from Barbados, and have this influence of the Jamaican culture in you now; do you have any plans to open a restaurant in Barbados or Jamaica?
Chef Paul: I would say that I have heavy influence of island flavours. Even though I am from Barbados, I can make a mean curry chicken or ox tail. Don't ramp with me! LOL
I don't really have any plans to open a restaurant in either country but I do have secret plans that heavily involve my island heritage. 
YardEdge: Have you ever thought of doing a reality show such as "Top Chef" / a show on the Cooking Channel?
Chef Paul: No, not really. I have been asked to do one or two (won't mention which ones) however I would like to sail down this river of life on my own steam. I like reality shows but wouldn't see myself on someone else's show.
YardEdge: Have you ever prepared a main course after slaughtering it yourself?
Chef Paul: LOL, if you are asking if I have ever prepared a disaster dish, oh yes I have. That is as far as I'll go with that one. LOL *Embarrassed but thankful for the experience. LOL
YardEdge: Are you incorporating any sustainable cooking in your repertoire?
Chef Paul: I prefer to use Organic products and methods of preparation that help reduce my footprint on this earth. I normally don't deep fry and this is part of the reason (in addition to healthy cooking).
YardEdge: Who is your favorite chef?
Chef Paul: My Favourite chef? I would have to say my Mother and Grandmother. They are the best chefs I know. I do like Ming Tsai however, his use of fresh ingredients and simple but flavorful cooking methods are appealing.
YardEdge: What inspires you?
Chef Paul: My uncle, who just passed, Dr. Timothy Greaves: my father, Dr. Donn Greaves and Denzel Washington. They have all played such an intricate part in my early development as a chef that it was humbling to have even had the opportunity to listen to their advice.
YardEdge: What are your other passions?
Chef Paul: My other passions are listening to people, meeting new people and learning new things. I also have a serious passion for home theater and reading or listening to audio books. Nerd Alert! LOL Also, I volunteer significantly for several non-profit organizations in the South Florida area and that is a passion that I will never give up. I truly think that giving back is essential to the balance of life.
YardEdge: Favorite meal to cook?
Chef Paul: Wow, favourite meal to cook? I am such a simple eater when it comes to preparing items for myself however I would say that my fav thing to prepare might be My broiled Miso salmon. Well, I gave this recipe to a friend of mine who cooked it for her then boyfriend who is presently her husband. (She claims the recipe helped win him over) They are still married by the way and that was 7 yrs ago. I would say that dish has some special something to it. 
YardEdge: How do you find living and working in Florida?
Chef Paul: I love Florida. It offers so much originality and culture that makes being a chef an inspiring career to have here. Florida truly is a melting pot especially with the atmosphere which is similar to being in Barbados.
YardEdge: Tell us about your latest/upcoming projects?
Chef Paul: Well, I have a few things that I am working on however in August, I will be releasing my first book entitled "Treat your woman right 101." Yes, you read that correctly. A chef writing a book about treating Woman: what can I say, Mr. Romantic. Guess you will have to wait till August to see if I know what I am talking about or not. 😉
YardEdge: Any regrets?
Chef Paul: I don't like to regret anything in life. Everything is a learning experience and we grow from them, the good things and especially the bad. So I would have to say No to that question. Well, maybe not taking pictures with some of my clients, that could be a regret however I prefer to remain professional when working for my high end clients.
YardEdge: Final thoughts?
Chef Paul: I just want to thank you for giving me the opportunity to answer these questions and for readers to learn a bit more about me. In my daily routine, I'll continue my efforts to spread the word about not drinking and driving, my volunteer efforts and treating your fellow man with respect. We are only here for a short time and it can be such a pleasurable experience if we take the time to treat each with respect and love.
You can follow me on Twitter @Chefpaul10 or look me up on my website  www.chef-paul.com.
Thank you for the experience and opportunity.