Last Mutual Gallery Show for 2010 Features Tina Spiro and Paul Stoppi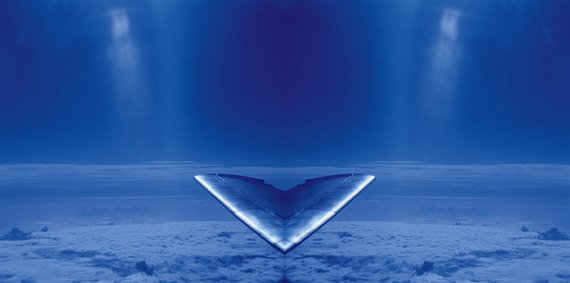 The last exhibition for this year at Mutual Gallery will be "Into The Light" featuring paintings by Tina Spiro and photographs by Paul Stoppi.
The guest speaker at the opening event on 18 November at 7.00 pm is Mr. Vivian Crawford, Executive Director of the Institute of Jamaica.

Both artists share a similarity of focus in this exhibition. Tina Spiro's latest work, the "Aurora series" depicts the spectacular cosmic beauty of the Aurora Borealis and provides the backdrop for events that are the result of human intervention resulting in environmental and human dislocation.
Paul Stoppi looks also at the universe but with a different eye. His snapshots from airplanes which viewers will be able to see through his light boxes in the exhibition are unique images that the artist's eye discovers, scrutinizes, explores. They record experiences that few others see, except for the intensity of the artist's gaze.
Tina Spiro is well known on the Jamaican art scene both as an artist, educator and former gallery operator. Her work has been shown in many exhibitions in Jamaica during the 1990s and later in exhibitions and biennials at the National Gallery of Jamaica. She has also exhibited extensively in the United States.
Paul Stoppi, a Jamaican who now resides in Miami, Fl., has also exhibited in Jamaica in the 1990s and has participated in the 2008 biennial at the National Gallery of Jamaica. Most of his exhibitions have been held in the United States.
Both artists will combine in showing their work in the upcoming exhibition at the Mutual Gallery on 18 November. The exhibition continues until 17 December 2010. The public is invited.
Gallery hours are from 10 am to 6 pm on weekdays and from 10 am to 3 pm on Saturdays.
For more information contact: The Mutual Gallery – Tel. 929-4302 –  Gilou Bauer or Michele Mason