JAMAICAN JEWELLER, KIMA FRANCIS Creating Natural Jamaican Jewellry Part 2
Part 2

YardEdge: Do you enjoy doing art as a "business"?
Kima: It's like a roller coaster! It has its ups and it has its downs. It's a whole new ball game when it comes to doing art as a business as there are no 'definites' really. Where as one can say its 'x' amount for a flat screen tv and they don't need to know about its specs, and people accept it and just find a way to pay for it, but with art its not as simple as that. The value of something becomes debatable and it is up to you the artist to believe in your work and convince or find a buyer who is willing to pay 'x' amount for your work.
YardEdge: How do you market yourself? your business?
Kima: I market myself in various ways, some of which are fashion shows, wearing my pieces – which my mother and grandmother do as well, I have a group on facebook that features my work and events that I will be selling jewellery at.  I participate in exhibitions at the Revolution Gallery, and I am looking to have my own website soon. I also participate in various fashion shows and events such as 'Worldplay'.
YardEdge: How have you handled the business side of being an artist?
Kima: Lets just say there's a whole lot to learn and I'm taking it in as fast as I can. I like doing things with a guaranteed success or when I know all the cards, but I'm learning that almost never in business you know all the cards before making your next move, sometimes you just have to take the risk.
YardEdge: Where do you get your ideas from?
Kima: How do you begin? I get ideas from every and anywhere really. My ideas are more about what techniques I can use next rather than what shape I'm going to do next. I like to just go with the flow when I'm working, it always causes things to happen naturally, and it just feels a lot more special than something planned, which usually looks like something you've seen already.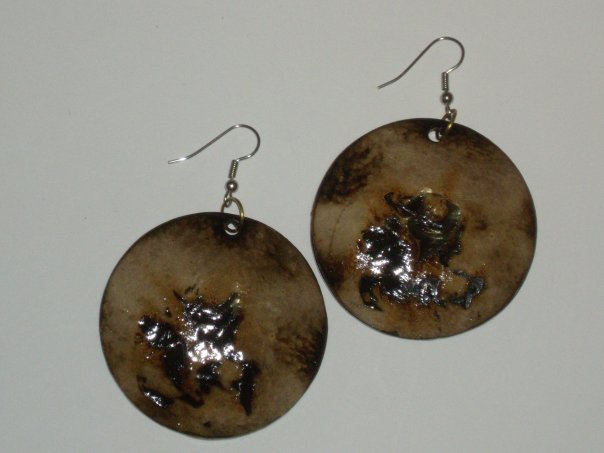 YardEdge: Where do you see yourself in 10 years?
Kima:  In 10 years I hope to be a household name. I hope to be known as the person with a highly reputable line of jewellery from natural materials. I hope to be selling my products worldwide by then via the internet. And I hope to be living on my own with my own family!
YardEdge: Has your style changed at all through the years?
Kima: Oh YES! Its always changing, the Lord is always planting new ideas in my head all the time. Sometimes I find myself doing something for no apparent reason at all, but it always turns out looking even more exciting than what I was thinking to do. I used to worry about running out of ideas, but I know I don't have to worry about that, its not my job anymore!
YardEdge: How have you developed your skill?
Kima: Well in terms of production I must say I have improved when it comes to efficiency. I am now able to plan ahead how many earrings I intend to make for the week and which day to do the cutting, then the filing, to the colour and so on until the're done. As I work, I'm always coming up with new and exciting ways to make my jewellery, some things I still haven't done as yet.
YardEdge: How would people who know you describe you?
Kima: I purposely chose not to try and answer this question, because my views of what people think of me may not be accurate, so here are some excerpts or words from a few people close to me. Family- Outgoing, sincere, effervescent, meticulous, secretive, very involved in the things around me, multi-talented, perfectionist and have a sense of humour (well that started a little debate, but it's all good)!
Friends- This is from one of my most recent friends whom I'm quite close to," Well you have changed since I met you! But when I met you, you where shy and not easy to approach with certain arguments! You don't easily confide and trust people … you're a cool individual! Down to earth, more than the other chicks I know! Vanity and luxury are not your first!!
– Creative, easy to talk to, seem like a determined sort of person who goes after what she wants.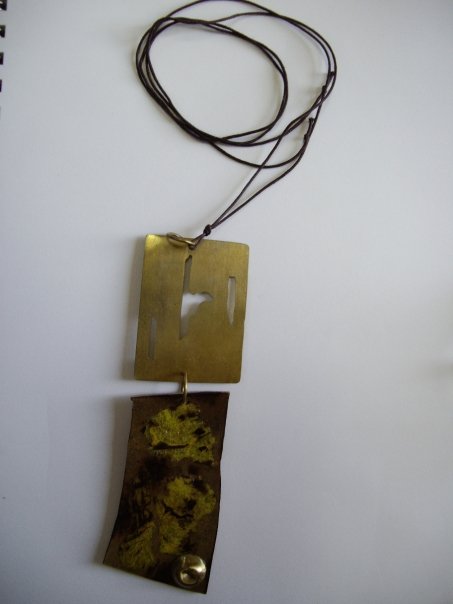 YardEdge: What makes you want to get up out of bed in the morning?
Kima: A new day is another day of using my hands to make something aaaammm no, I'm just kidding. Honestly I don't like getting up in the mornings, because I go to bed quite late at night surfing the web for new supplies, replying to emails, reading books on branding, trying to do my washing since my days are taken up and stuff like that.
That's the hard thing about being an enterpenuer. There is just so much you have to learn, and you want to learn as fast as you can so you don't get left behind, or miss out on an opportunity due to ignorance or something like that. I call these my sleep deprived years, but there are days when I am excited to get up, whether it is coming up to an event an I'm excited about it, or some new idea I want to try before I forget it!
YardEdge: If you could be doing anything you wanted, what would that be?
Kima:  Wow, I'm not sure. There are just so many things that I would want to do, that are not necessarily 'big' things like running a country or anything like that, but I like simple stuff like wanting to live on my own, spending time with my family and friends, I'd like to be able to do something for children, not sure what exactly yet but I love kids. I didn't leave the nursery until I was about 12, because I loved helping out with taking care of the younger ones there!
YardEdge: Last book you read?
Kima: The last book I read was ZAG – The #1 Strategy of High Performance Brands by Marty Neumeier. This book is basically about 'zagging' when everyone else in 'zigging'. In other words it's just advising you to be different. If you want to stand out you've got to be different and relevant. I'm not a reader, and this book was both captivating and informative. The writing style of the author is not that of the typical big books about 'x' and 'y', but rather it is light and written with humour and it speaks of things you can relate to today, it is current for now at least…..lol!
YardEdge: What's your favourite film?
Kima: I have no idea…………..I'm not really a movie watcher. I tend to watch shows such as Mystery Diagnosis, Law and Order, Most Shocking, things like that.
YardEdge: What makes you happy?
Kima: Being around the people I love, seeing people's reactions to my jewellery, being around animals- I love dogs, cats, turtles, animals in general.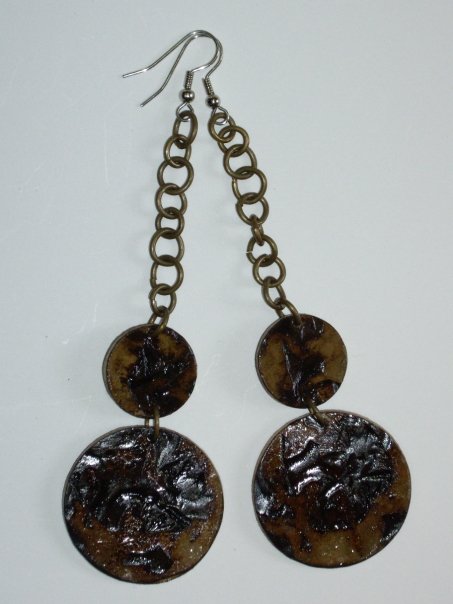 YardEdge: What makes you sad?
Kima: Feelings of inadequacy, feeling like I'm not getting anywhere, I guess my own insecurities and that's pretty much it!
YardEdge: What's your favourite food?
Kima: Pizza, I love melted cheese! and I love samosas as well!
YardEdge: What really irritates you?
Kima: People who are unreliable, people who don't keep their word, indecisiveness, dishonesty, men who wont take a hint even when it's staring them in the face.
YardEdge: Final thoughts?
Kima: Just trying to live by doing the stuff I love!
You can contact Kima by email: naturebykima@yahoo.com or via facebook at
http://www.new.facebook.com/group.php?gid=24769479034&ref=mf
You can also view her jewellery @ Revolution Gallery, 44 Lady Musgrave Rd.
Telephone:  946-0053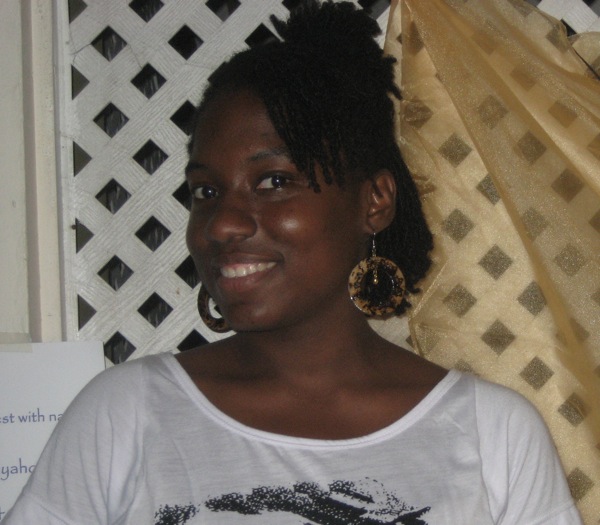 Jamaican Jeweller, Kima Francis