The Spanish-Jamaican Foundation Participates in Reading in Spanish Initiative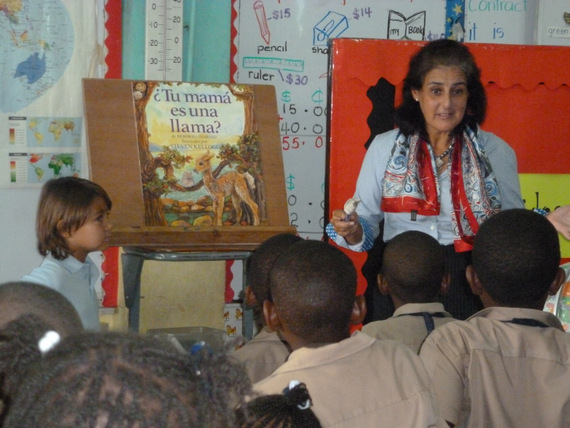 Here's an update from the Spanish-Jamaican Foundaton…
In an unprecedented initiative, embassies representing Spanish-speaking countries in Kingston joined forces on Read Across Jamaica Day, Tuesday, May 8, 2012, to participate in bilingual readings at primary schools in Kingston and St. Andrew, to mark the importance of reading and learning Spanish.
Diplomatic representatives from Argentina, Chile, Colombia, Costa Rica, Cuba, Dominican Republic, Ecuador, Mexico, Nicaragua, Spain and Venezuela, joined by the EU Ambassador's Colombian husband, visited primary schools which teach Spanish.
Led by the Spanish Ambassador and president of The Spanish-Jamaican Foundation, H.E. Celsa Nuño, the Ambassadors and members of the abovementioned Missions read Spanish storybooks in 13 schools to over 500 students in total.
The Spanish-Jamaican Foundation, which has as one of its key objectives the support of broad-based educational initiatives, along with the Embassies of Spain, Chile, the Dominican Republic, Mexico and the European Union Delegation, also donated age-appropriate reading materials in Spanish totalling close to JD100,000.
Ambassador Nuño often speaks about the importance of promoting the teaching of Spanish in schools, especially as a tool of economic empowerment. She seized this opportunity to share the fun of reading in Spanish.
As she explained, "all my colleagues were very happy to participate in this exciting reading outreach initiative, as we wholeheartedly share the importance of reading to children. We added this interesting twist – reading in Spanish – in order to raise awareness as to the critical importance of speaking foreign languages in this increasingly knowledge-based, inter-connected global world. Remember, Jamaica is surrounded by 375 million Spanish-speaking Latin American people with whom Jamaicans could interact and do business".
Read Across Jamaica Day is part of the Jamaica Teachers Association's (JTA) annual celebration of Education Week.
For more information on the Spanish-Jamaican Foundation, please see Spanish-Jamaican Foundation