The Jolly Boys Launch New Modern Mento Sound Saturday
Check out this interview with The Jolly Boys at pretaportie.blogspot.com.
On Saturday July 3, Geejam Productions will present a one-night-only concert event and party showcasing the Jolly Boys featuring Albert Minott and their new, modern take on mento, Jamaica's first-time dance music.  The concert will take place at Redbones in Kingston.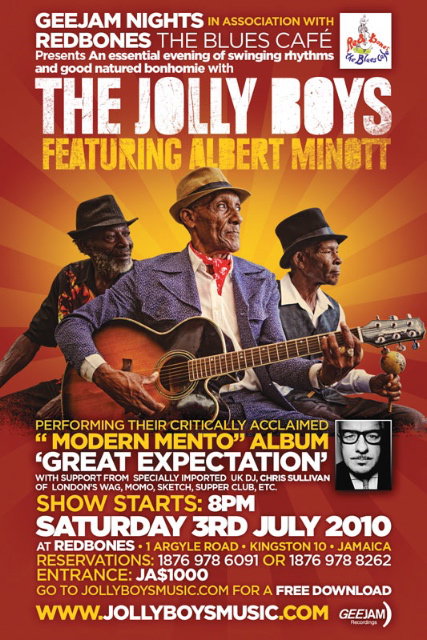 The first set begins at 8:00pm with a performance of classic mento tunes. At 10:00, the modern mento experience begins with the new-look Jolly Boys who will play tracks from Great Expectation, their upcoming album of unique cover versions of songs made famous by artists including Amy Winehouse, the Clash, the Doors, and others, that fuse old-time style with modern beats and a fresh international vibe.

London DJ Chris Sullivan (of the Wag, Momo, Sketch and Supper Club) will spin reggae, soul and funk in between sets.
Geejam nights is the official launch for the Jolly Boys and their new modern mento sound; it will be filmed for international release.
For more info and to learn more about their summer European tour and album launch see their website.